Rams Freshman EC Mathews Named Finalist for National Rookie of the Year.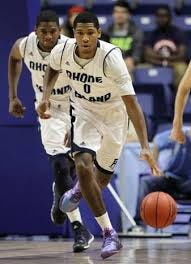 URI news release…
KINGSTON, R.I. — E.C. Matthews was named to the 2013-14 Kyle Macy Freshman All-America team and is one of 26 finalists for the Kyle Macy National Freshman of the Year award.
On March 11, Matthews was named Atlantic 10 Co-Rookie of the Year. He averaged 14.4 points, 4.4 rebounds, and 2.4 assists per game. The Detroit native was one of just three freshmen nationally to average at least 14.0 points, 4.0 rebounds, and 2.0 assists during the regular season. He ranked second in the A-10 among freshmen in scoring and third in rebounding and assists.
This past season, Matthews become one of just six players in Atlantic 10 history to earn seven A-10 Rookie of the Week awards. He received the honor five out of the last six weeks of the regular season, as teammate Hassan Martin was tabbed as the league's top rookie the week of March 3.
Since January, the 6-5 guard posted nine games with 20 or more points – most among all freshmen nationally. In conference games only, Matthews averaged 16.6 points per game – eighth overall in the A-10 and 10th nationally among all frosh.
Matthews was the first Rhode Island player to be named Atlantic 10 Rookie of the Year since the 1998-99 season, when Lamar Odom was voted as the league's top newcomer. He joins Ram alums Antonio Reynolds-Dean (1995-96), Kenny Green (1986-87), and John Evans (1985-86), who was named co-Rookie of the Year along with Darryl Prue of West Virginia. DeAndre Bembry of Saint Joseph's shared the award with Matthews.
The Kyle Macy award is presented annually to the top freshman in Division I college basketball. The 1975 Indiana "Mr. Basketball" played his freshman season at Purdue University. He transferred to Kentucky in 1976 and finished his career as a three-time All-America selection. The winner of the 2014 Macy award will be announced at the CollegeInsider.com Awards Banquet on April 4 in Dallas, site of the Division I Men's Basketball Championship.
Other finalists include: The finalists include Deandre Bembry (St. Joseph's), Myles Davis (Xavier), James Daniel (Howard), Rodney Elliott (UMBC), Joel Embiid (Kansas), Tyler Ennis (Syracuse), Shannon Evans (Buffalo), Kahlil Felder (Oakland), Aaron Gordon (Arizona), Khallid Hart (Marist), Vincent Hunter (UTEP), Rysheed Jordan (St. John's), Tim Kempton (Lehigh), Jordan Mickey (LSU), Jabari Parker (Duke), London Perrantes (Virginia), Cameron Payne (Murray State), Bobby Portis (Arkansas), Julius Randle (Kentucky), Jonathan Starks (Tulane), Sindarius Thornwell (South Carolina), Noah Vonleh (Indiana), Paul Watson (Fresno), Andrew Wiggins
(Kansas) and Marquis Wright (Siena).