Reaction: RI unemployment rate drops to 5.9%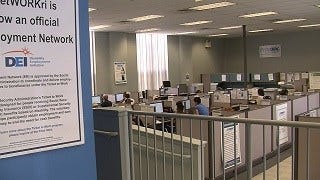 Rhode Island's unemployment rate has dropped to its lowest point since 2007.
But, despite the good news, many across the state are still having a hard time finding work.
"I come here three to four times a week," said Tracey Williams who frequently goes to the NetworkRI job center in Providence. "I'm always on the internet, I've gone around to different agencies."
Williams has been searching for work in the healthcare field since September of 2014..
"At this point I need a job, I have to have a job, I'm running out of money," said Williams.
Rhode Island's unemployment rate is down to 5.9 percent for May. The manager of NetworkRI's Providence Center, Chris Tanguay, says even with the improving economy they are still seeing a steady flow of people.
"We see people circulating in and out lately. So what we are seeing is new faces so people are getting re-energized about entering the workforce," said Tanguay.
Rhode Island remains behind the national unemployment rate average by four tenths of a percentage point. But, compared to the same time last year, there are 10,000 fewer people in the state looking for work.
For those still struggling this is Chris Tanguay's message.
"Know your resources, know the things that we do here at the Network Rhode Island and utilize those services," said Tanguay.
The recently House approved $8.67 billion budget focuses on jobs and the economy. We spoke with House Speaker Nick Mattiello about how that pro-jobs budget could help to continue to improve the unemployment rate in the state.
"We're creating the environment, we're being competitive and we're going to do what we need to do to continue to grow jobs and continue to create the type of environment which companies want to be a part of," said Mattiello. "We eliminated sales tax on utility bill energy costs for businesses. That gives them 70 percent of their utility cost back for all businesses except manufacturing, which was already exempt. We lowered corporate tax, and we took the two percent tax off radiology companies."
The speaker adds that the budget gives the Governor and Commerce Corporation tools to spur job creation.
"When you are talking about tools tax incentives, tax credits that incentivize certain behavior, that incentivize students to stay in the state, that incentivize companies to give in the state by giving them credit for doing so," said Mattiello.
The new budget goes into effect July 1st. The Rhode Island Senate will vote on it next week. After that, it will go to the Governor for approval.
(C) WLNE 2015