Real Ballots, Real Voting for Cumberland H.S. Students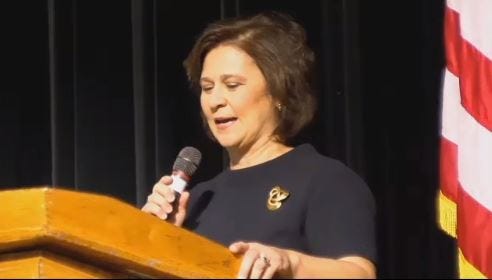 CUMBERLAND, R.I. (WLNE-TV) — Students at Cumberland High School held their class elections Thursday, and were visited by a special guest – Rhode Island's Secretary of State, Nellie Gorbea.
Gorbea printed out official ballots for students to vote with. On them, the names of candidates running for class office.
The Secretary of State also brought in real vote-tallying machines, to familiarize students with the American voting process.
"I really feel that part of the reason people don't vote is because they are intimidated by how to do it," said Gorbea.
Gorbea spoke with students about the election process and how it works, and stressed the importance of voting in state and national elections.
Students then filled out their ballots in black ink, placed them in the tallying machines, and received their 'I voted' stickers.
"I think this personal experience with the ballot is really important, as young people get ready to go on and become adults and continue to be voters," said Gorbea.
"I think about my own voting experience and how I didn't really go to a polling place until I was an adult — it can be quite intimidating," said Cumberland High principal, Adolfo Costa. "Having the opportunity to realistically cast a ballot will hopefully help them vote when they are ready to."
The Secretary of State's Office has been putting on the voting program since 2017. They say it is available to any high school in the state, public and private.
(C) WLNE-TV / ABC 6 2019