Reality TV comes to Providence with courtroom show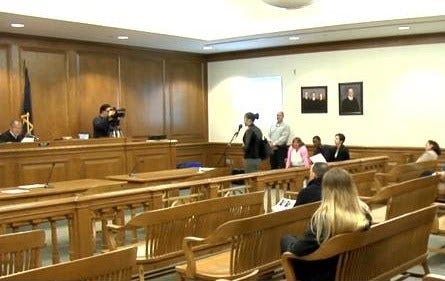 By Alana Cerrone
@Alana_Cerrone
There were quite a few laughs in Providence Municipal Court Friday morning as people tried to talk their way out of their tickets. It's the subject of a reality TV show in Providence. It's not meant to be funny, but Chief Judge Frank Caprio says sometimes it just turns out that way.
It's lights camera action as Judge Caprio takes the bench.
It's no act…but he has made it to the small screen.
It's for a local show called 'Caught in Providence'. Judge Caprio's brother Joe produces it, and it takes place in this very courtroom.
"We see everything from speeding tickets to red lights."
In his 30 years on the bench he's heard every excuse in the book.
"I had a fella come in charged with speeding. He says 'Judge I just bought new shoes they were tied so tight I couldn't tell how fast I was pressing on the gas pedal.'"
Those who step in front of him have a little fun with the cameras, but Judge Caprio makes it clear that he is here to do one job.
"I'm not here on the court to be an entertainer…my primary role is to do justice."
In fact, Judge Caprio says reading people is in his blood, and he's gotten pretty good at it.
"Believe it or not you get a sense of when people are telling the truth. I can tell the phonies from those people who are desperate."
Some defendants' antics may bring about a laugh or two.
"When I get outta this I'm gonna hibernate like a squirrel…"
But Judge Caprio also sees a deeper meaning.
"For many people this is their first experience with the judicial system. We make it as loose as possible so they don't become intimidated by the court."
Now Judge Caprio says if anyone comes into court and doesn't want to be on camera, they won't film them. But otherwise, you might tune in and see your neighbor, or someone else you know. You can catch 'Caught in Providence' on Saturday nights after ABC6 News at 11.
© WLNE-TV 2015