RECALL: Gluten-free chicken nuggets may cause food poisoning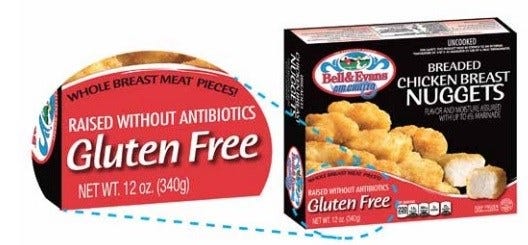 By News Staff
news@abc6.com
Over 20,000 pounds of chicken nuggets have been recalled after the product tested positive for a toxin that causes food poisoning.
Murry's, Inc., the company that makes Bell & Evans, has recalled its Gluten Free Breaded Chicken Breast Nuggets. The recalled product comes in a 12-oz. box with a "Best By" date of March 25, 2016 and establishment number "P-516".
The problem was discovered during a routine retail surveillance and sampling program.
No illnesses have been reported yet.
Staphylococcal food poisoning is a gastrointestinal illness caused by eating foods contaminated with Staphylococcus aureus.
Staphylococcus aureus is a common bacterium found on the skin and in the noses of healthy people and animals.
The bacterium are fast acting, sometimes causing illness in as little as 30 minutes. Thoroughly cooking product does not prevent illness, and symptoms usually develop within one to six hours after eating contaminated food. Patients typically experience nausea, vomiting, stomach cramps, and diarrhea. The illness is usually mild and most patients recover after one to three days.
Consumers with questions about the recall can contact Murry's Customer Service, at (800) 638-0215. More information can be found here.
© WLNE-TV 2015