Recall on candles sold at Hobby Lobby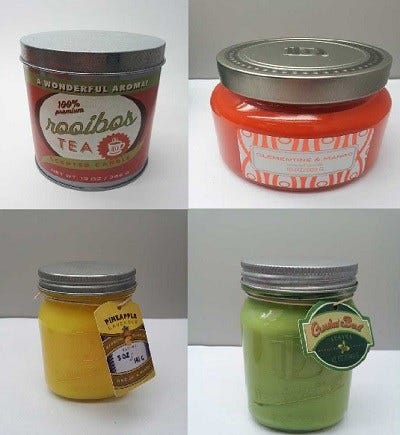 By News Staff
Over 160,000 more candles sold at Hobby Lobby are being recalled due to a fire hazard.
Four types of DD branded single-wick candles sold in a variety of fragrances and colors are being recalled after reports of the candle's surface igniting. The company is recalling 168,000 candles, on top of 256,000 recalled in November and 126,000 back in April.
Overall, there has been one report of injury and 10 reports of property damage.
The affected candles, that come in mason jars and decorative tins, were sold at Hobby Lobby stores nationwide or online at HobbyLobby.com from June 2014 through October 2014.
Check the SKU number on the underside of each container to see if your product is included in the recall. Candles with the following scents and SKU numbers are being recalled:
Scent

SKU#

5-ounce Mason jar

Green Tea Leaf

746123

Pineapple Lavender

759258

Tomato Tart

721704

12-ounce Mason jar

Apple Spiced Cider

956797

Apricot Cranberry Jam

5441431*

Cherry Lime Spritzer

956862

Crushed Basil Leaves

910919

Ginger Vanilla

956755

Meyer Lemon and Juniper

909168

Night Potion

5441357*

Peach Cobbler

956359

Pineapple Lavender

957068

Rasberry Whip

956706

10-ounce decorative jar

Autumn Moonlight

957142

Beach Getaway

957712

Clementine and Mango

957506

Fern Leaf

957159

French Berries

957308

Sea Spa

957167

Southern Magnolia

957738

Spring Bouquet

957746

Tuscan Harvest

958009

Vanilla Orchid

958025

Vintage Luxe

958033

20-ounce decorative jar

Autumn Moonlight

841130

Beach Getaway

881920

Clementine and Mango

878900

Fern Leaf

854968

French Berries

886392

Sea Spa

859652

Southern Magnolia

883264

Spring Bouquet

889527

Tuscan Harvest

891242

Vanilla Orchid

892216

Vintage Luxe

905919

13-ounce coffee tin

Rooibos Tea

578476

13-ounce Holiday candle

Holiday

Wreath

507186

Pomegranate

516997

Sleigh Ride

512061

Snowfall

500777
If your candle is included in the recall, you should immediately stop using it and return it to the nearest Hobby Lobby. Consumers with a receipt will receive a full refund. Consumers without a receipt will be issued a store credit. Online purchasers should contact CoScentrix toll-free at (888) 298-2722 from 8 a.m. to 5 p.m. PT Monday through Friday or online at
www.coscentrix.com
and click on "Product Recall Info" at the bottom of the page.
(C) WLNE-TV 2014