Record-breaking tick levels in RI poses health risk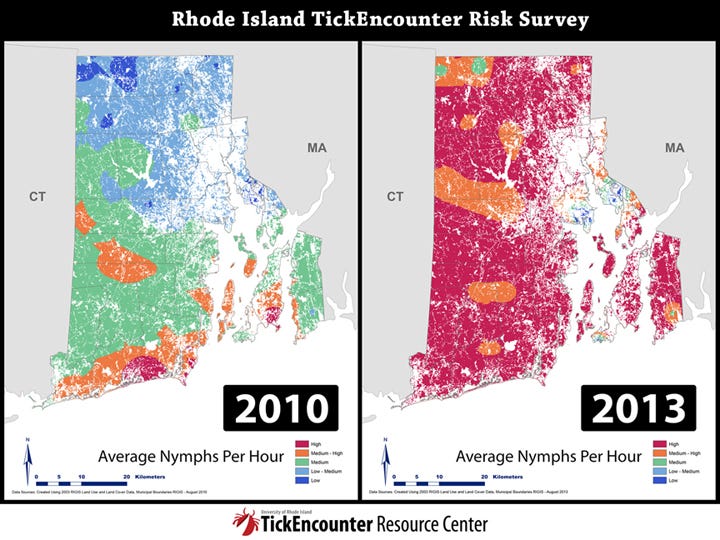 Alana Cerrone
A record number of ticks poses a significant threat to Rhode Island's public health.
Researches at URI have found a record number of ticks in the state this year, for the second year in a row. Professor Thomas Mather and his research team are shocked at the number of ticks they have found, which also include six different transmittable diseases.
This finding comes just after the Centers for Disease Control announced that, based on preliminary studies, there are likely 300,000 cases of Lyme disease in the country each year. Lyme disease and two other tick-borne diseases called babesia and anaplasma are commonly found in Rhode Island ticks.
Recent weather conditions may have attributed to the problem this year – high tick levels are correlated with high humidity levels throughout the month of June. Because of weather and other factors, Mather says, "…we should expect a bumper crop of adult deer ticks this fall".
Mather is concerned about the public's health, noting that every area of the state is susceptible, but some places do have more "exceptional numbers" than others. Residents should take special caution to protect themselves and reduce their risk of contracting tick-borne diseases:
Wear tick repellent clothing when going outside in a tick-prone habitat
Perform complete daily full-body tick checks
Be aware of ticks in your area and how to identify them
Treat your yard with insecticides
Protect your pets with tick repellent or products that kill ticks
The URI TickEncounter Resource Center has more information on ticks and precautions: www.tickencounter.org
(C) WLNE-TV 2013