Recycle your Xmas tree to a local goat farm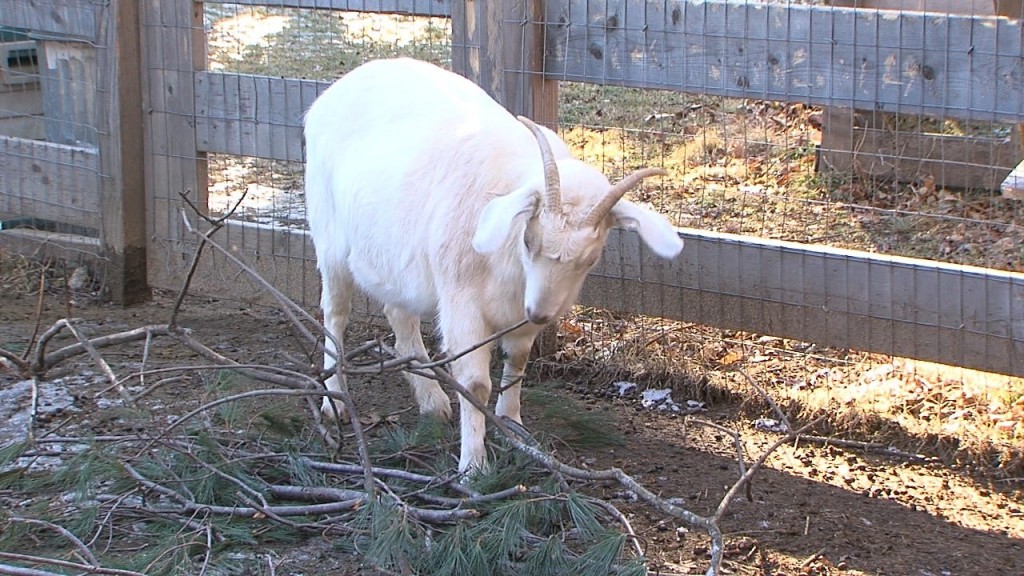 By: Ellie Romano
Email: ERomano@ABC6.com
Twitter: @ERomanoABC6.com
COVENTRY, R.I. (WLNE) – One man's trash is another's treasure. Don't throw out your Christmas tree right after the holidays. Instead, think about recycling it to feed a goat.
A small farm in Coventry is looking for Christmas tree/wreath donations to feed its goats.
"The goats really enjoy it. They love the bark. They love the pine. They have sap all over their faces," said farm owner Krystine Ritzen.
She said pine trees are a great snack for her two female goats named Ygritte and Brienne. They are two-years-old and twins.
"When it's cold out in the winter they don't have as much to graze on. Since pine is evergreen, it is a great source of vitamin C for them in the winter," said Ritzen.
She did a similar initiative around Halloween. She asked people for their leftover pumpkins to feed her pigs. She said it was a success and received around 500 lbs. in pumpkin donations.
"It's a win-win. People like to see their efforts are going to something good like feeding an animal," said Ritzen.
Recycling a Christmas tree is also great for the environment. It helps cut back on the amount of trash going to landfills after the holidays.
"Hundreds of thousands of pounds of trash from Rhode Island goes into the landfill every year. That's food scraps, food waste, trees for Christmas, wreaths, things like that," said Ritzen.
If you bought your tree from a store, it may not be safe for the goats because it might contain pesticides and chemicals.
"I prefer local if possible. Fresh cut. If it came from your own back yard even better," said Ritzen.
If you would like to donate your Christmas tree or wreath to Ritzen's farm, you can contact her via Facebook or email her at k.ritzen@hotmail.com.
She is also willing to pick up your tree.
©WLNE-TV/ABC6 2019