Red Sox clinch playoff berth, beat Orioles 3-1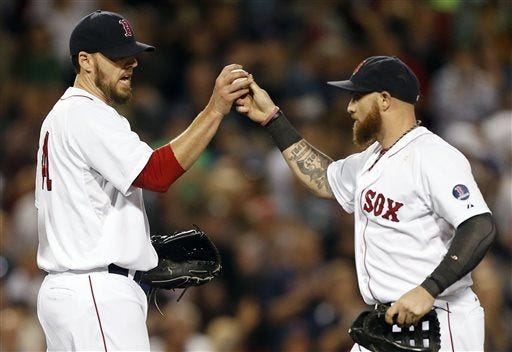 The Associated Press
Red Sox clinch playoff berth, beat Orioles 3-1
BOSTON (AP) _ The Boston Red Sox clinched their first postseason berth since 2009, beating the Baltimore Orioles 3-1 Thursday night behind John Lackey's two-hitter.
Coming off a last-place finish and a 69-93 record _ their most losses since 1965, the Red Sox have rebounded under first-year manager John Farrell and ensured at least a wild-card berth in the postseason. They lowered their magic number to two for clinching the AL East.
Just before Adam Jones' game-ending flyout to right, the crowd chanted, "Lackey! Lackey!'' And after Daniel Nava caught the ball, catcher Jarrod Saltalamacchia embraced Lackey in front of the mound as Red Sox players came out of the dugout for their usual postgame handshakes.
Earlier in the day, the Los Angeles Dodgers became the first team to earn a playoff berth when they clinched the NL West.
Boston scored all its runs in the second on Stephen Drew's two-run homer and Dustin Pedroia's RBI single.