Red Sox designate Hanley Ramirez for assignment in surprise move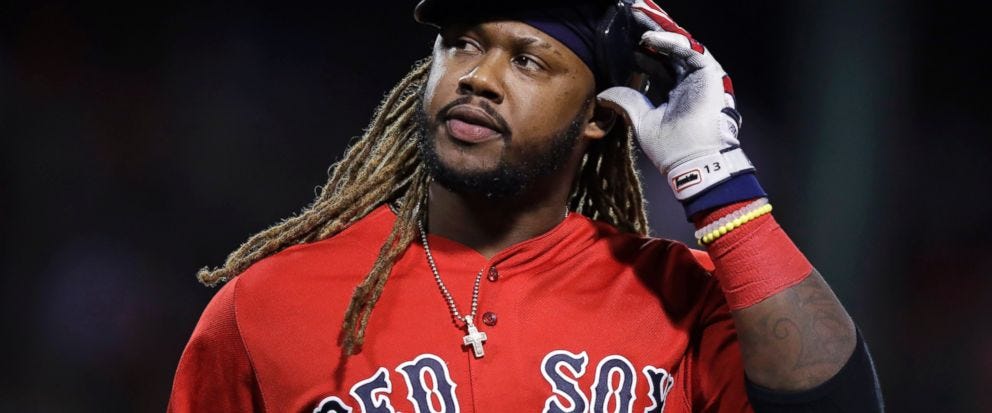 BOSTON (AP) _ The Boston Red Sox have designated Hanley Ramirez for assignment to make room for Dustin Pedroia on the 25-man roster as he returns from the disabled list.
Ramirez was hitting .254 with six homers and 29 RBIs in 44 games this season while splitting his time between first base and designated hitter. Ramirez had been with the Red Sox since 2015 after signing a four-year, $88 million contract as a free agent.
By designating the 34-year-old Ramirez for assignment, the Red Sox clear the way for Pedroia to make his 2018 debut. The 34-year-old Pedroia has spent all season on the disabled list after undergoing surgery on his left knee in October.
Pedroia, a four-time All-Star, had been Boston's opening day second baseman every year from 2007-17.
Red Sox release…
BOSTON, MA – The Boston Red Sox today returned second baseman Dustin Pedroia from his injury rehabilitation assignment with Triple-A Pawtucket and activated him from the 10-day disabled list. To make room on the 25-man roster, the Red Sox designated first baseman/designated hitter Hanley Ramirez for assignment.
President of Baseball Operations Dave Dombrowski made the announcement.
Pedroia, 34, began the season on the disabled list recovering from left knee surgery performed on October 25, 2017. He appeared in five rehab games for the PawSox, making four starts at second base and one as a designated hitter. Selected by Boston in the second round of the 2004 June Draft, Pedroia has played his entire 12-year major league career with the Red Sox, batting .300 (1,802-for-6,000) with a .366 on-base percentage, 394 doubles, 15 triples, 140 home runs, 724 RBI, and 920 runs scored. A four-time All-Star, he was named the American League's Rookie of the Year in 2007 and Most Valuable Player in 2008. Pedroia has won four Rawlings Gold Glove Awards (2008, '11, '13-14), the most ever for a Red Sox infielder.
Pedroia was the Red Sox' Opening Day starter at second base in 11 consecutive seasons from 2007-17. He has also started at second base in each of Boston's 51 postseason games since 2007, helping lead the club to World Series titles in 2007 and 2013. In 105 games in 2017, Pedroia batted .293 (119-for-406) with a .369 on-base percentage and more walks (49) than strikeouts (48), his 11th consecutive season batting above .275. In 2016, he recorded 201 hits and scored 105 runs, also earning a Wilson Defensive Player of the Year Award as the majors' top second baseman. On July 24, 2013, Pedroia agreed to an eight-year contract extension through the 2021 season.
Ramirez, 34, has hit .254 (45-for-177) with six home runs, 29 RBI, and a .708 OPS in 44 games this season, making 25 starts at first base and 19 at designated hitter. Originally signed by Boston as an international free agent in July 2000, he has appeared in 1,652 major league games with the Red Sox (2005, '15-18), Marlins (2006-12), and Dodgers (2012-14), batting .290 (1,825-for-6,300) with 374 doubles, 32 triples, 269 home runs, 909 RBI, 1,045 runs scored, and 281 stolen bases. In 431 games with Boston, Ramirez batted .260 (422-for-1,625) with 78 home runs and 255 RBI. The 2006 National League Rookie of the Year was named an All-Star in three consecutive seasons from 2008-10, also earning Silver Slugger Awards in 2008 and 2009.