Red Sox Draft Arkansas Outfielder Andrew Benintendi In First Round Of 2015 MLB Draft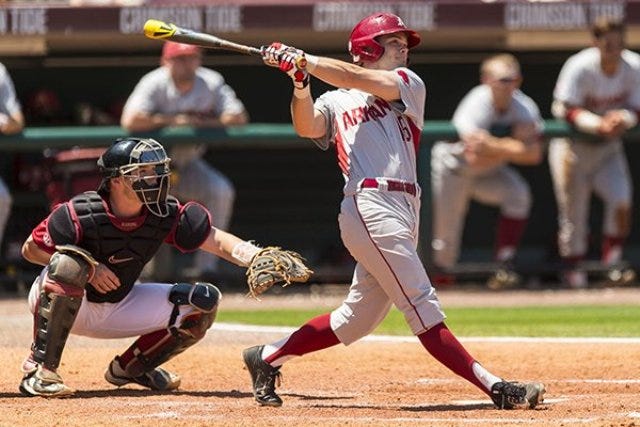 Boston Red Sox Press Release
BOSTON, MA
—The Boston Red Sox selected outfielder Andrew Benintendi out of the University of Arkansas in Fayetteville with their first-round pick (seventh overall) in the 2015 June Draft tonight.
Red Sox Director of Amateur Scouting Mike Rikard made the announcement.
Benintendi, 20, hit .380 (84-for-221) with 13 doubles, two triples, 19 home runs, 55 RBI, and 61 runs scored in 63 games for the Razorbacks as a sophomore this season. A 5-foot-10, 180-pound left-handed batter, he drew 47 walks for a .489 on-base percentage and stole 23 bases in 27 attempts. He is currently tied for the NCAA Division I lead in home runs and ranks third with a .715 slugging percentage. Rated by Baseball America as the best collegiate pure hitter available in this year's draft, he was named Southeastern Conference Player of the Year after leading the conference in batting average, slugging, on-base percentage, home runs, and walks. Benintendi also became the first player in Arkansas team history to be named National Player of the Year by Collegiate Baseball, was a finalist for the 2015 Golden Spikes Award, and is one of five remaining candidates for the Dick Howser Trophy. He has helped the Razorbacks to a 40-23 record this season and a berth in the College World Series.
As a senior in 2013 at Madeira High School, in his hometown of Cincinnati, OH, Benintendi was named Rawlings National High School Player of the Year, Gatorade Ohio Baseball Player of the Year, and a First Team All-American after batting .564 with 12 homers, 57 RBI, and 38 stolen bases. He was selected by the Cincinnati Reds in the 31st round of the 2013 June Draft but did not sign.