Red Sox Finalize Deal with Pablo Sandoval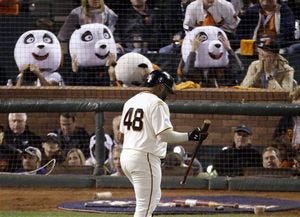 Red Sox news release…
BOSTON, MA—The Boston Red Sox today agreed with two-time All-Star Pablo Sandoval on a five-year contract through the 2019 season with a club option for 2020. To make room on the 40-man roster, first baseman/catcher Ryan Lavarnway was designated for assignment. Executive Vice President/General Manager Ben Cherington made the announcement.
Sandoval, 28, played his first seven years in the major leagues with the San Francisco Giants, winning World Series championships in all three trips to the postseason: 2010, 2012, and 2014.
Last season, the switch-hitter batted .279 with 26 doubles, three triples, 16 home runs, and 73 RBI in a career-high 157 regular season games and 153 starts. He was the ninth-hardest National Leaguer to strike out (7.5 plate appearances per strikeout). Over his last 126 games beginning on May 7, Sandoval had the NL's fifth-most hits (145) and eighth-best batting average (.306).
Sandoval, who will wear No. 48, helped the Giants to the 2014 World Series title, batting .366 with seven doubles, five RBI, and five walks in 17 postseason games. His 26 hits set the all-time record for a single postseason.
The native of Carabobo, Venezuela has reached base safely in 36 of his 39 career postseason games for a .344 batting average (53-for-154), best in major league history among those with at least 150 postseason plate appearances.
Only David Ortiz (.455) has a higher World Series batting average than Sandoval (.426) among those with at least 50 plate appearances in the Fall Classic. Sandoval was named MVP of the 2012 World Series, in which he hit .500 (8-for-16) in the Giants' four-game sweep of the Tigers.
Originally signed by the Giants as an international free agent in 2003, he made his big league debut with 41 games in 2008. Beginning with his first full big league season in 2009, when he ranked second in the National League with a .330 average, Sandoval leads all NL switch-hitters with 896 hits and 303 extra-base hits. He was named an All-Star in back-to-back seasons in 2011 and 2012.
In his career, Sandoval owns a .304/.357/.493 batting line against right-handed pitchers, including a .317 average against righties in 2014 that ranked fourth among National Leaguers.
Sandoval is one of six players in major league history with a three-homer game in both the regular season (September 4, 2013 at San Diego) and the postseason (Game 1 of the 2012 World Series against Detroit). On September 15, 2011, he hit for the cycle at Colorado.
This past season, he placed third among NL third basemen with a .971 fielding percentage and posted a career-long 73-game errorless streak from May 25-August 22.
Sandoval's lifetime .960 fielding percentage at third base ranks third among active major league third basemen with least 750 games at the position. He has also played first base (63 games, 55 starts) and catcher (14 games, 12 starts) in his big league career.
Sandoval hit .308 with two doubles, a home run, and four RBI in three games for Venezuela during the 2013 World Baseball Classic.
Lavarnway, 27, split 2014 between Triple-A Pawtucket and Boston, his fourth consecutive season appearing in the majors. The right-handed batter appeared in nine games over two big league stints for the Red Sox this year, going 0-for-10. In 62 regular season games for the PawSox, he hit .283 (62-for-219) with 10 doubles, three homers, and 20 RBI. Lavarnway missed over two months of the year on the major league disabled list with a left hamate fracture. Signed as a sixth-round selection in the 2008 June Draft, he has hit .201 (56-for-279) with 17 doubles, five home runs, and 34 home runs in 97 major league games beginning in 2011.