Red Sox Place 2B Dustin Pedroia Back On 10-Day DL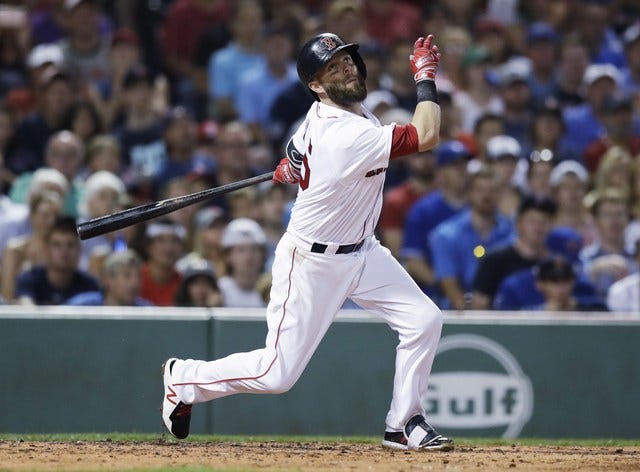 Boston Red Sox Press Release
BOSTON, MA – Prior to today's game against the New York Yankees, the Boston Red Sox placed second baseman Dustin Pedroia on the 10-day disabled list (retroactive to August 9) with left knee inflammation. To fill his spot on the 25-man roster, the club recalled left-handed pitcher Robby Scott from Triple-A Pawtucket.
President of Baseball Operations Dave Dombrowski made the announcement.
Pedroia, 33, leads the Red Sox in batting average (.303) and on-base percentage (.378), having gone 103-for-340 with 17 doubles, six home runs, and 54 RBI as one of only two qualifying American League players with more walks (41) than strikeouts (37). In 28 games since June 26, he has batted .336 (39-for-116) with a .908 OPS, hitting four home runs in his last 18 games. He leads major league second baseman in fielding percentage (.997), with his lone error of the season coming on July 19 and snapping an errorless streak of 114 games, marking a Red Sox career record at the position. The 2007 AL Rookie of the Year, 2008 AL Most Valuable Player, and two-time World Series champion (2007, 2013) has hit .301 (1,786-for-5,934) with a .367 on-base percentage in 1,484 career games, all with Boston.
Scott, 27, has made three scoreless appearances for Pawtucket since being optioned on July 31, allowing two hits over 2.2 innings. The left-hander has appeared in 41 major league games this season, going 1-1 with a 3.38 ERA (10 ER/26.2 IP) and a 1.05 WHIP while limiting opponents to a .194 batting average. In five major league appearances since the All-Star break, he has pitched 4.2 scoreless innings with zero walks and only two hits surrendered. Left-handed batters are hitting only .111 against him on the season, having gone 1-for-12 since July 4. Scott won the Red Sox' 2016 Lou Gorman Award for demonstrating dedication and perseverance in overcoming obstacles while working his way to the Major League team.
– RED SOX –