Red Sox rally with 6 in 9th to beat Mariners 8-7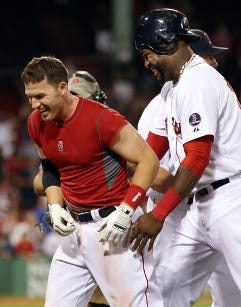 The Associated Press
BOSTON (AP) _ Daniel Nava's long single to center field capped a six-run rally in the bottom of the ninth inning as the Boston Red Sox came back to beat the Mariners 8-7 on Thursday night and sweep Seattle in the three-game series. One night after winning in 15 innings for their major league-leading 10th walkoff victory, the Red Sox did it again to open a one-game lead in the AL East over the idle Tampa Bay Rays.
Henry Blanco hit a grand slam, and Felix Hernandez pitched seven innings of six-hit ball to help Seattle take a 7-1 lead after five innings. But Boston scored one in the eighth and six in the ninth against three relievers who recorded just one out.
Steven Wright (2-0) pitched three scoreless innings in relief of Ryan Dempster. Oliver Perez (2-3), who blew a seventh-inning lead on Wednesday, took the loss.