Red Sox Recall Rusney Castillo, Send Jackie Bradley, Jr. Back to Pawtucket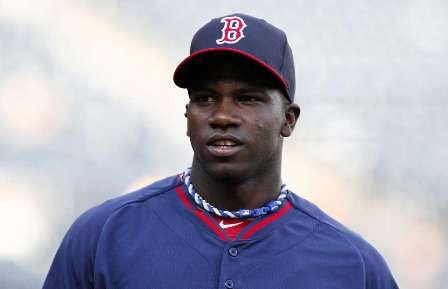 Red Sox news release…
BOSTON, MA – The Boston Red Sox today recalled outfielder Rusney Castillo from Triple-A Pawtucket. To make room for him on the 25-man roster, outfielder Jackie Bradley Jr. was optioned to Pawtucket. Castillo is starting in right field in tonight's series opener against the Los Angeles Angels of Anaheim at Fenway Park beginning at 7:10 p.m.
Executive Vice President/General Manager Ben Cherington made the announcement.
For Castillo, 27, this is his first major league stint of the season. The right-handed batter has hit .293 (22-for-75) with eight runs, five doubles, two home runs, 10 RBI, six walks, and six stolen bases in 18 games for the PawSox this season, appearing nine times in center field (eight starts) and six times in right field (all starts). Castillo, who missed time in April with right shoulder inflammation, is batting .327 (17-for-52) with four doubles, two home runs, and eight RBI over his last 12 games. Signed by Boston last August, he made his U.S. pro debut last season with 11 minor league games and then 10 games for the Red Sox. In the big leagues, he went 12-for-36 (.333) with a double, two home runs, six RBI, and three stolen bases. Castillo also played 323 games over five seasons in Cuba's major league, Serie Nacional, for his hometown team, Ciego de Avila.
Bradley, 25, has made six appearances over two stints with the Red Sox this season, going 0-for-11 at the plate with two walks while seeing time at all three outfield positions. He has also played in 24 games with Pawtucket, where he has hit .343 (34-for-99) with 12 runs scored, nine doubles, one home run, nine RBI, and a .393 on-base percentage. Bradley has made 22 starts in center field and two in right field for the PawSox, combining to record four outfield assists. For his major league career, Bradley has hit .192 (94-for-490) with 24 doubles, two triples, four home runs, and 40 RBI in 170 games, all for Boston (2013-15). The left-handed batter has also appeared in 256 career minor league games, combining to hit .296 (291-for-984) with a .394 on-base percentage.