Red Sox Starter Rick Porcello Wins A.L. Cy Young Award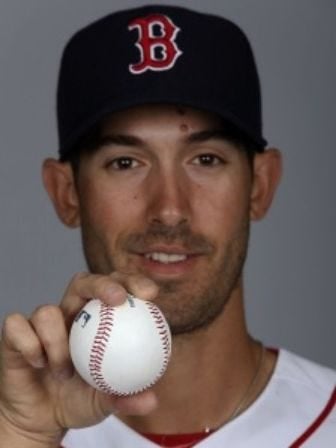 Red Sox news release…
BOSTON, MA – Boston Red Sox right-handed pitcher Rick Porcello has been named the 2016 American League Cy Young Award winner by the Baseball Writers Association of America. The announcement was made tonight on MLB Network.
This is the seventh Cy Young Award in Red Sox history. Porcello is only the fourth Boston pitcher to earn the honor, joining Jim Lonborg (1967), Roger Clemens (1986, 1987, 1991), and Pedro Martinez (1999, 2000). He received eight of 30 first-place votes and totaled 137 points, finishing ahead of Detroit's Justin Verlander (132 points) and Cleveland's Corey Kluber (98 points).
At 22-4 (.846), Porcello led the majors in wins and ranked second in winning percentage behind Toronto's Aaron Sanchez (.882, 15-2). The 27-year-old became the 17th pitcher ever to win as many as 22 games in a season for the Red Sox, the first to do so since Martinez went 23-4 in 1999. Porcello began the season with a 20-3 record, becoming the first pitcher in franchise history to win at least 20 of his first 23 decisions.
After going 9-15 with a 4.92 ERA for the Red Sox in 2015, Porcello led the majors in 2016 with a strikeout-to-walk ratio of 5.91 and ranked among American League leaders in ERA (5th, 3.15), WHIP (2nd, 1.01), innings pitched (4th, 223.0), opponent batting average (6th, .230), strikeouts (8th, 189), complete games (T-3rd, 3), and walks per nine innings (2nd, 1.29). His 26 quality starts were the second-most in the American League, as well as the second-most by any Red Sox pitcher in the live ball era (since 1920), trailing only Roger Clemens' 27 in 1990.
The Red Sox went 25-8 in Porcello's career-high 33 starts, including 17-3 in his final 20 outings. He was 8-0 during a stretch of 13 starts from May 22-July 29, the longest win streak of his career. In 17 starts against American League East opponents, Porcello was 11-2 with a 3.28 ERA (43 ER/118.0 IP) and a 7.47 strikeout-to-walk ratio. Each of his final 10 outings against the division was a quality start (beginning June 28), as he went 7-1 with a 2.63 ERA (21 ER/72.0 IP) in those games.
In addition to his 33 starts, Porcello set career bests in wins, ERA, innings, strikeouts, WHIP, opponent batting average, walks per nine innings, and strikeout-to-walk ratio. Despite recording 51.0 more innings in 2016 than he did in 2015 (172.0), he issued six fewer walks this season compared to a year ago. Porcello walked more than two batters in a game only once, and in 17 starts from July 4 through the remainder of the season he posted a 9.09 strikeout-to-walk ratio (100 SO, 11 BB).
Porcello recorded at least 7.0 innings and allowed three or fewer runs in 11 consecutive starts from July 29-September 19, tied with Cy Young (1904) and Pedro Martinez (2000) for the longest single-season streak in Red Sox history (source: Elias Sports Bureau). He pitched at least 6.0 innings in each of his final 18 starts, the longest such streak by any American League pitcher in 2016. Beginning August 26, 2015, Porcello has thrown at least 5.0 innings in each of his last 41 starts, the AL's longest active streak.
Thirteen of Porcello's wins in 2016 came at Fenway Park, the most home wins in the majors this season and the most by a Red Sox pitcher since Martinez in 1999 (also 13). The Red Sox were 15-1 in Porcello's home starts, with the right-hander going 13-1 with a 2.97 ERA (35 ER/106.0 IP) in those games. Boston won each of his first 14 home starts, tied with Boo Ferriss (1946) for the longest such streak to begin a season in club history. Porcello began the season 13-0 at Fenway, becoming only the fifth pitcher since 1900 to win each of his first 13 decisions at home; according to Elias, the others to accomplish the feat are Dallas Keuchel (2015 Astros), Boo Ferriss (1946 Red Sox), Tex Hughson (1944 Red Sox), and Larry Benton (1928 Giants).
Named the American League's Pitcher of the Month for September, Porcello recorded his third complete game of the season on September 19 at Baltimore, when he threw only 89 pitches in the Red Sox' 5-2 win over the Orioles. Boston won each of his final three regular season outings before he was dealt the loss in Game 1 of the American League Division Series at Cleveland.
Also voted the American League's Outstanding Pitcher earlier this month as part of the 25th annual Players Choice Awards, Porcello is the only AL pitcher to make at least 27 starts in each of the last eight seasons (2009-16). He is one of only 11 pitchers who debuted in 1976 or later to earn 100 wins before turning 28 years old, joining Fernando Valenzuela, Roger Clemens, Bret Saberhagen, Dwight Gooden, Greg Maddux, Pedro Martinez, CC Sabathia, Felix Hernandez, Clayton Kershaw, and Madison Bumgarner.