Red Sox Trade Lackey to the Cardinals for Joe Kelly and Allen Craig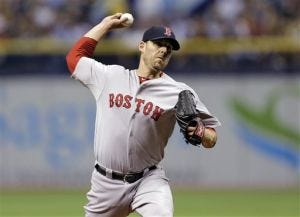 Red Sox news release…
BOSTON, MA – The Boston Red Sox today acquired outfielder/first baseman Allen Craig and right-handed pitcher Joe Kelly from St. Louis Cardinals in exchange for right-handed pitcher John Lackey, minor league left-handed pitcher Corey Littrell, and cash considerations.
Executive Vice President/General Manager Ben Cherington made the announcement.
Craig, 30, is batting .237 (87-for-367) with 17 doubles, one triple, seven home runs, 44 RBI, and 26 walks in 97 games for the Cardinals this season. This year he has appeared primarily in right field (70 games, all starts) and has also played first base (24 games, 22 starts) and left field (10 games, 2 starts).
Last season, the right-handed batter was named an All-Star and hit .315 (160-for-508) with 29 doubles, two triples, 13 home runs, and 97 RBI in 134 games. He led the majors with a .454 batting average with runners in scoring position (59-for-130) in 2013 and also ranked among NL leaders in RBI ratio (3rd, 5.2 AB/RBI), RBI (8th), batting average (8th), and on-base percentage (11th, .373).
Since the start of 2012, he ranks seventh among all National Leaguers with 233 RBI despite missing time on the disabled list in each of the past two seasons. Over the last three seasons from 2011-13, Craig ranked fourth among National League qualifiers with a .312 batting average, helping St. Louis to the postseason in all three years. He was a member of the 2011 Cardinals team that won the World Series.
Signed by the Cardinals as an eighth-round selection in the 2006 June Draft, Craig is a .291 hitter (482-for-1,658) in five major league seasons from 2010-14, with 103 doubles, three triples, 57 home runs, 291 RBI, and 127 walks over 469 games.
Primarily a first baseman (217 games, 199 starts) and right fielder (163 games, 148 starts) in his major league career, Craig also saw time at left field (74 games, 48 starts), second base (9 games, 8 starts), center field (5 games, 5 starts), and third base (4 games, 3 starts) with St. Louis.
A native of Mission Viejo, CA, Craig has played 34 postseason games with the Cardinals over the last three years, batting .260 (26-for-100) with 11 extra-base hits (5 doubles, triple, 5 home runs) and 14 walks.
Kelly, 26, has gone 2-2 with a 4.37 ERA (17 ER/35.0 IP) in seven starts for St. Louis this season. He spent time on the disabled list with a left hamstring strain suffered while running the bases on April 16 at Milwaukee.
Last year, in his second major league season, the Anaheim, CA native went 10-5 with a 2.69 ERA (37 ER/124.0 IP) in 37 games, including a 2.28 ERA (22 ER/87.0 IP) in 15 regular season starts. He made four starts for the National League champion Cardinals in the 2013 postseason, including Game 3 of the World Series against the Red Sox in which he allowed two earned runs in 5.1 innings at Busch Stadium.
For his big league career, he is 17-14 with a 3.25 ERA (96 ER/266.0 IP) in 68 games (38 starts) all for St. Louis (2012-14), and as a starter he is 15-11 with a 3.25 ERA (77 ER/213.1) in 38 games. He was a third-round selection (98th overall) of the Cardinals in the 2009 June Draft.
In 21 starts for the Red Sox this season, Lackey, 35, has gone 11-7 with a 3.60 ERA (55 ER/137.1 IP) and 116 strikeouts. Last season he posted a 2.77 ERA (8 ER/26.0 IP) in five postseason outings, including four starts, en route to the Red Sox' World Series Championship. He owns a 3.55 ERA in 50 regular season starts between 2013 and 2014 after missing the 2012 season recovering from Tommy John surgery.
In four seasons with the Red Sox (2010-11, 2013-14), Lackey went 47-43 with a 4.46 ERA (348 ER/701.2 IP). Over a 12-year major league career between the Red Sox and Angels (2002-09), Lackey has gone 149-114 with a 4.02 ERA (984 ER/2,202.2 IP) and 1,742 strikeouts in 345 career major league outings, including 344 starts.
Littrell, 22, posted a 3.60 ERA (40 ER/100.0 IP) with 91 strikeouts to go with 38 walks in 19 games (18 starts) with High-A Salem this season. He went 5-8 with a 3.16 ERA (46 ER/131.0 IP) combined over parts of two seasons in the Red Sox system, including a 1.74 ERA in 12 games (10 starts) with Short-A Lowell in 2013. The Red Sox fifth-round selection in the 2013 June Draft out of the University of Kentucky, he is the son of right-hander Jack Littrell Jr., who pitched in the Los Angeles Dodgers (1977-78) and Montreal Expos (1980) organizations.