Red Sox Use Three Homers and Solid Relief to Beat Yankees in the Bronx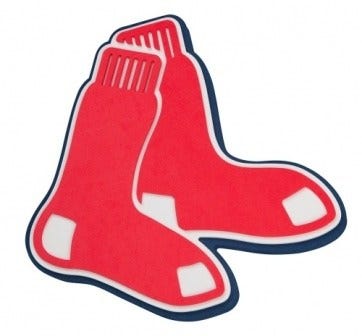 NEW YORK — (AP) Mitch Moreland and Hanley Ramirez hit back-to-back home runs and Andrew Benintendi later connected off struggling Masahiro Tanaka, powering the Boston Red Sox over the New York Yankees 5-4 on Tuesday night.
The Red Sox made their first visit of the season to Yankee Stadium, and the matchup between the longtime rivals and top teams in the AL East had the feel of October, mostly because of the raw weather — low 50s, windy and damp.
Overpowering closer Craig Kimbrel struck out five in 1 1/3 innings to seal the win. He fanned one batter on a wild pitch, and struck out big-hitting rookie Aaron Judge on a 99 mph fastball to finish it.
Boston began the day next-to-last in the majors with just 53 homers, but manager John Farrell said before the game that he thought his team would soon pick up the power pace.
Playing at the new Yankee Stadium for the first time without now-retired slugger David Ortiz on the roster, the Red Sox launched a trio of long balls and moved within a game of first-place New York.
A lefty-swinging cleanup hitter, same as Big Papi, got it going when Moreland delivered with a long two-run drive to right-center field in the fourth inning. Ramirez followed with a liner to left for a 4-1 lead.
Benintendi padded the lead with a second-deck shot in the fifth.
Tanaka (5-6) lost his career-worst fifth straight start. He's been tagged for 27 runs and 11 homers in 22 2/3 innings during that span.
Drew Pomeranz (6-3) labored through a career-high 123 pitches in five innings to win his third start in a row.
Kimbrel posted his 17th save in 18 chances. He took over with a runner on third and two outs in the eighth, and struck out Didi Gregorius — but the ball bounced for a wild pitch and catcher Christian Vazquez slipped trying to corral it, allowing a run to score and Gregorius to reach.
Kimbrel then walked Chase Headley before striking out Chris Carter.
Carter hit a solo home run in the fifth.
Judge made an outstanding catch in right field, banging his head and shoulder into the wall to rob Jackie Bradley Jr. of extra bases and drawing chants from the crowd. Judge also lined a double.
TRAINER'S ROOM
Red Sox: LHP Brian Johnson threw a bullpen for Triple-A Pawtucket and felt fine after recently tweaking his hamstring. He could possibly start for Boston on Friday night vs. Detroit. Johnson is 2-0 in a pair of spot starts for the Red Sox this year, and shut out Seattle on May 27. … LHP Eduardo Rodriguez (knee) remains on a rest-and-rehab program. He said he hasn't been told a timetable for his return. … RHP Carson Smith was rained out of a simulated game earlier in the day, and will throw before Wednesday's game. It will be his first time facing hitters since Tommy John surgery.
Yankees: OF Jacoby Ellsbury has no timetable for resuming baseball activity. He's still feeling effects from his concussion, manager Joe Girardi said. … 1B Greg Bird (ankle) played back-to-back games in the field at Class A Tampa for the first time since going on the disabled list, meaning he could be ready to move to a higher level.
UP NEXT
Red Sox: RHP Rick Porcello (3-7, 4.24 ERA) starts Wednesday night at Yankee Stadium. The reigning AL Cy Young Award winner has thrown at least six innings in each of his last 18 road starts, the longest active streak in the majors. The next-longest string is seven, by Clayton Kershaw and Madison Bumgarner.
Yankees: LHP CC Sabathia (6-2, 4.12) has won four straight starts, giving up four earned runs in 24 1/3 innings. He is 13-13 in 35 career starts vs. Boston.