Red Sox winner shirts printed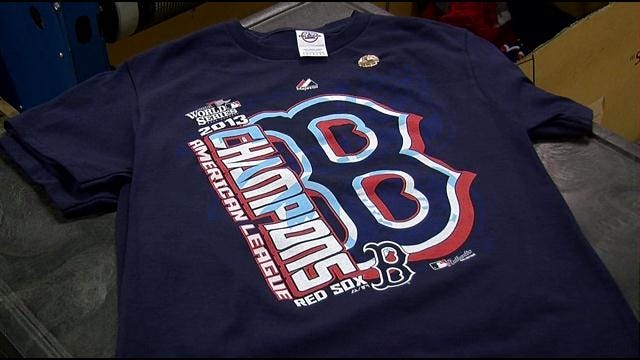 By Dana Griffin
SMITHFIELD, RI- With the ALCS win comes new T–shirts, the moment the last out was called.
Employees at Cool Air Creations in Smithfield were on standby; unsure if they'd be getting sleep or coffee after the 9th inning.
Michael Otten said, "Aw it was awesome. Victorino hit that grand slam. We knew it was over; making T–shirts all night long."
So far 10,000 shirts have been printed and shipped.
At Dick's Sporting Goods in Warwick, they've almost sold out of their 100–tees. Fans are eager to get Red Sox gear.
Red Sox fan, Rick Ogren said, "Just a good luck superstition as a Boston fan. I do have my shirt; One for me and one for my dad."
These are official MLB shirts. Only about four New England companies have a contract to produce them. The shirt design has been a secret until today.
Cool Air Creations owner, David Campbell said, "Every shirt is numbered, every shirt is actually accounted for and every shirt needs to be accounted for at the end of the day; so there are no extras and theirs nothing that walks away."
Workers stayed up all night, printing until 6 a.m. If the Red Sox win the World Series, Cool Air Creations will repeat the process all over again.
©2013 ABC6/WLNE-TV. All Rights Reserved