Red Wings Pounce On Rehabbing Pomeranz To Beat PawSox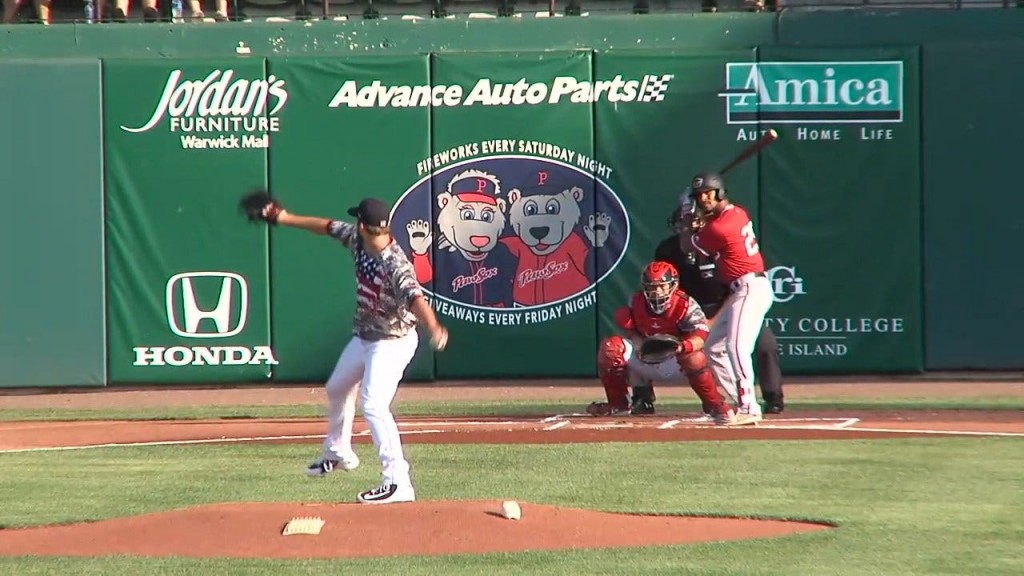 Pawtucket Red Sox Press Release
PAWTUCKET, R.I. — The Rochester Red Wings cracked four home runs and used a wave of early offense to defeat the Pawtucket Red Sox, 6-2, on Monday night at McCoy Stadium in front of a crowd of 10,450 — the fourth sellout of the season.
The Red Wings (40-40) scored in each of the first three innings — including three in the first — and claimed the opener of the four-game, home-and-home holiday week series with the PawSox (39-43).
In his first game action since a May 31st start against the Astros in Houston, rehabbing Red Sox left-hander Drew Pomeranz made a rehab start. The 29-year old southpaw, who landed on the disabled list with left biceps tendinitis, allowed five runs on four hits (all homers) in 2.2 innings with two walks and two strikeouts. In total, Pomeranz threw 56 pitches (34 strikes) and left with Pawtucket trailing 5-2.
"Any time you come down for rehab starts, you're really more concerned about how you feel than numbers," Pomeranz said. "I felt good, felt pretty good. I think I got what I wanted to out of today.
"Like I said, I'm out there trying to get ready for a big-league game. It's a different game down here. I spent plenty of time in Triple-A to know it's a different game between the two. Maybe you would throw different pitches against guys to get them out if I was playing here. But like I said, I'm trying to get ready for big-league games. I'm just trying to get the things polished up that I think I need to get ready to be back."
In eight starts with the Red Sox in April and May, Pomeranz totaled a 6.81 ERA before he was placed on the disabled list again June 5 (retroactive to June 2).
"Arm felt great. Shoulder felt great," Pomeranz said. "Like I said, I haven't really pitched off the mound that much since I went on the DL. So just looking to go out there and have an outing where I felt good. That's what I got."
PawSox relievers Ty Buttrey (2.1 IP, 1 R, 2 K), Williams Jerez (2 IP, 1 H), Robby Scott (1 IP, 2 K) and Ryan Brasier (1-2-3) helped stem the tide and keep Pawtucket within striking distance.
Rochester right-hander D.J. Baxendale made a spot start and tossed three innings of two-run work. Reliever Luke Bard (W, 1-1) added three shutout stanzas.
Newly-optioned Rochester center fielder Byron Buxton led off the ballgame by drilling an 0-2 pitch for a solo homer. Following a flyout and a walk, Rochester hulking cleanup man Kennys Vargas lifted a two-run homer to left to make it 3-0 in the first.
Pawtucket responded in the bottom of the first inning on a two-run, wall-ball double from designated hitter Mike Ohlman, trimming the gap to one.
But an inning later, Rochester No. 9 hitter Edgar Corcino tagged a two-out solo shot to left-center to push the lead to 4-2. Pomeranz had struck out the first two batters he faced to begin that inning.
Then in the third after a pair of quick outs on four total pitches, Red Wings right fielder LaMonte Wade pulled a solo homer into the right-field bullpen.
Rochester tacked on another run in the fifth when Vargas placed an RBI double onto the chalk down the left-field line, stretching the margin to 6-2.
The PawSox square off again with Rochester on Tuesday at 6:15 p.m. with an Independence Day fireworks extravaganza to follow at McCoy Stadium. PawSox right-hander Chandler Shepherd (4-6, 3.74) is scheduled to oppose Red Wings righty Fernando Romero (1-1, 2.33). The game will be televised live on YurView on COX, and radio coverage on WHJJ (920 AM and 104.7 FM) and throughout the PawSox Radio Network begins with the pre-game show at 5:45 p.m.
The two-game holiday stint is annually one of the biggest events at McCoy Stadium. Limited tickets are available, and fans can visit the McCoy Stadium box office, which is open Monday-Friday from 10 a.m. through 5 p.m., and during all home games. Fans can also call (401) 724-7300 or log on to PawSox.com for tickets.