Redevelopment begins underground at former I-195 site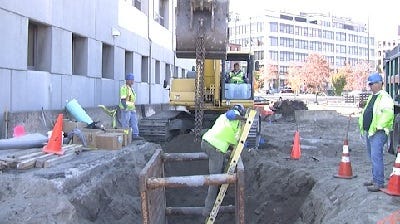 Nicole Gerber
@NicoleGerber
PROVIDENCE – What used to be just a stretch of highway in downtown Providence will eventually become a fully developed area. Underground construction projects are paving the way, transforming the former site of I-195 into land, prime
for building.
Crews were hard at work today around Richmond Street, digging into trenches and laying the foundation for what
will eventually become an area ready for new developments.
Underground infrastructure work is the first
step in taking the area west of the Providence River…what used to be I–195… and redeveloping it into useable land.
"Truly in the trenches work that's being done to
reconnect the city fabric that was broken in half in the early 50s when the 195
was originally developed," said Colin Kane, Chairman of the 195 Redevelopment Commission.
"Pipes, conduit, every utility – gas, electric,
telecommunication, drainage pipes, water and sewer, all going in… what you
don't see when you're walking along the sidewalk, this is all going in
now," said Jan Brodie, Executive Director of the 195 Redevelopment District.
This first part of the project will finish next fall and similar
construction on the East side of the river will be done in the summer of 2015. Once that's all finished, the two will be linked.
"In a very exciting way for the first time the East
side and West side will be connected via a pedestrian bridge, on the supports
that used to support the highway," said Kane.
Once the project is complete it'll boast 3
million square feet of available building space.
"I'd like to see a mixture of uses, some commercial space,
some office space, hospitality, recreation, and also other kinds of new
endeavors… some we may not even know about today," said Brodie.
In addition to all the building there will also be 8 acres
of parks put in to the project on either side of the river.
Construction on those will begin once the developments are
complete in about two years from now.
(C) WLNE-TV 2013