Remarkable Comeback Sends Brown into Second Round of the NCAA Soccer Tourney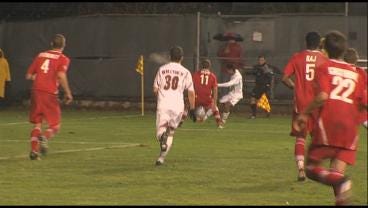 Comeback! Brown Scores Three Late Goals to Move Past Fairfield, 3-2, in NCAA First Round
PROVIDENCE, R.I. – On a rainy and cold night on Stevenson Field, taking on a team that had not been beaten in 13-straight games and eventually facing a 2-0 deficit with just 16 minutes left in the match, Brown came back in miraculous fashion, scoring three goals in just over six minutes to advance past Fairfield 3-2. The Bears move on to the 2011 NCAA Second Round, at No. 11 St. John's, on Sunday, November 20, at 5 p.m.
The Bears came out on the offensive attack in the first half and actually outshot Fairfield, 15-7, in the initial 45 minutes of the game.
The second corner of the match, which came on back-to-back plays for Brown led to the ball in the back of the net off the foot of senior Evan Coleman (Amherst, Mass.), but a late offsides call negated the goal.
Brown was able to hold Fairfield without a shot for the first 31 minutes of the game, and despite all the offensive chances for the Bears, it was the Stags who were able to make the most of their offensive attacks as they scored on their very first shot of the game by Jake Zuniga.
The goal snapped Brown's streak of keeping opponents scoreless at five games. The Bears last goal allowed came on October 22, in a 1-1 tie at Cornell.
Brown had two more near goals late in the first half but Fairfield goalkeeper Michael O'Keefe was able to make two highlight reel goals to keep the Bears off the board.
In the 39th minute Fairfield was able to increase its advantage as Daniel Shaw headed the perfect cross from Jack Burridge to put the Stags up 2-0.
After the break, it was evenly matched start to the second half as neither team was able to take ball control for an extended period.
The next 11 minutes of the game could go down as the most exciting in the history of the Brown Soccer program.With just 10:30 to play in the match, senior Sean Rosa (Montreal, Quebec) was able to cut the Fairfield lead in half powering one in the back of the net from 22-yards out. Just 32 seconds later, the score was tied. Rosa took control and fired one on net. O'Keefe came up with the initial save, but the ball rebounded off to senior Austin Mandel (Tarzana, Calif.) who buried the chance and equalized the score.
A corner kick with just over 4:30 to play led to sophomore Aiden Leonard (Cararillo, Calif.) with the ball at the top of the box. Despite making his debut just two weeks ago, Leonard came up with biggest goal of the season thus far, slamming it home, past the outstretched reach of O'Keefe and a 3-2 Brown lead.