Remembering Jim Skeffington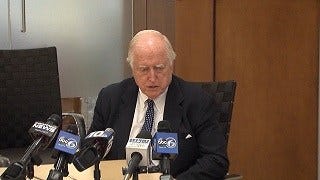 By: Samantha Lavien
Twitter: @SLavienABC6
PawSox owner Jim Skeffington died of a heart attack while jogging Sunday night.
In the wake of his unexpected passing family, friends and former colleagues are now remembering the huge impact he had on the Rhode Island community over the last several decades.
"Jim Skeffington's an iconic citizen of Rhode Island. He's been involved in so many economic development projects that have created jobs and economic prosperity," said former mayor Joe Paolino.
Paolino saying the 73 year old attorney helped him with a number of projects including the Providence Place Mall and the Convention Center.
"His mind was always going, so smart, always coming up with different ideas," said Paolino.
Former Mayor Buddy Cianci also spoke Monday of Skeffington's role in shaping the state.
"He was a very positive influence in many ways because he brought new methods of financing. He was always the point man in all the major deals that went on in the state of Rhode Island," said Cianci.
Skeffington was a father of two and a grandfather as well.
His son, James Skeffington Jr., released the following statement on behalf of the family:
"It is with profound sadness that our family announces the unexpected passing of James J Skeffington Sr. on Sunday evening.
Jim was blessed with extraordinary talents which he used to serve the community he loved. He was a legend in the legal community and an advisor to business leaders and government officials for nearly 50 years. Yet, despite the demands of a busy law practice, he made the time to serve on the Boards of some of Rhode Island's most important educational and charitable institutions. And, he made it part of his life to reach out to individuals enduring difficult times in everyday life. He quietly came to the aid of many, asking nothing in return.
The essence of Jim's life was a strong devotion to his faith, to his family, and to his friends. With boundless energy and enthusiasm Jim enriched the lives of all around him.
We have been overwhelmed by the kind thoughts and messages from so many friends. We ask God's blessing for Jim and all who loved him."
(C) WLNE 2015