Remnants of Nicole Moving Through Friday Night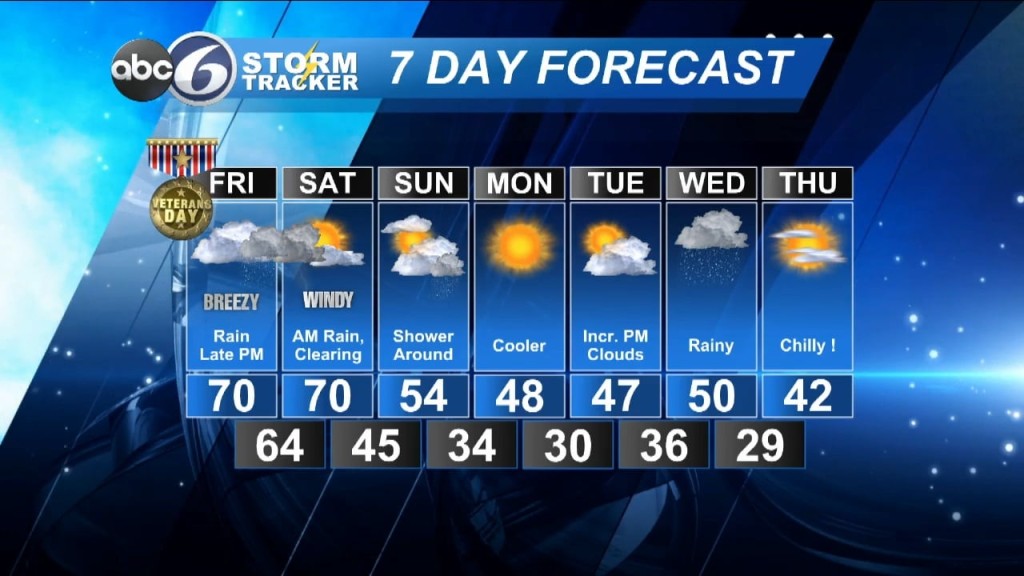 High pressure continues to provide us with very pleasant conditions tonight. However, some clouds and patchy fog will be developing toward daybreak. Veterans Day Friday will start with that patchy fog then mostly cloudy skies take over. If you have a chance to clear the leaves away from any storm drains near your home it would be a good idea to help prevent the possibility of street flooding. Rain will develop for the mid to late afternoon and winds will increase. It will also become muggy and much warmer with temperatures topping out in the upper 60s to near 70°. Rain will be heavy at times and there is a chance of thunderstorms Friday night into Saturday morning. Saturday morning will have periods of very heavy rain with a chance of thunderstorms and winds gusting to 40-50 miles per hour, especially in the southern part of the state. Bringing in any outdoor furniture would be a good idea!
Saturday afternoon brings rapid improvement as the storm pulls away and the sky clears. Temperatures will begin to fall during the afternoon though and then Sunday will bring seasonal highs in the mid 50s, but there will be a threat of a shower around. Heading into early next week it turns to a cooler than normal weather pattern where highs only make in to the upper 40s. The threat for rain will arrive on Wednesday.