Report: Legalizing marijuana in RI would bring in tens of millions of dollars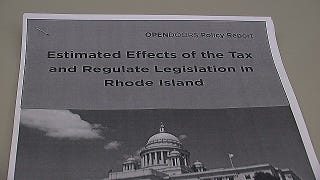 By: Samantha Lavien
Twitter: @samanthalavien
A new report says if marijuana is legalized in Rhode Island it would bring in anywhere from $21.5 to $82 million in revenue each year.
The report was compiled by Open Doors, a non-profit that serves ex-convicts.
"It puts a dollar figure on what people already know which is that people in this state are spending millions of dollars on an underground product," said the author of the report, Nick Horton.
Proposed legislation would create a 10 percent sales tax on all retail marijuana and a $50 per ounce excise tax on marijuana sold wholesale.
While there's no denying legalizing the drug would bring in millions of dollars, some people are concerned about other effects.
"We have to pay attention and be really careful about anything that changes your judgment, your behavior," said Gabrielle Abbate the Executive Director of Mothers Against Drunk Driving in Rhode Island.
The new report also looks at marijuana and the criminal justice system. It says if the drug were legalized.. it is likely there would be fewer cases to prosecute.
"There is a substantial number of people who go to prison every year for delivery and production of marijuana that currently other people in the state can use without committing a crime," said Horton.
Washington and Colorado are the only two states to have legalized marijuana so far.
Horton says he did reach out to experts in both states while compiling the study, but it's too soon for them to have any real data to report.
© WLNE-TV 2014