Report: Providence Schools central office in need of overhaul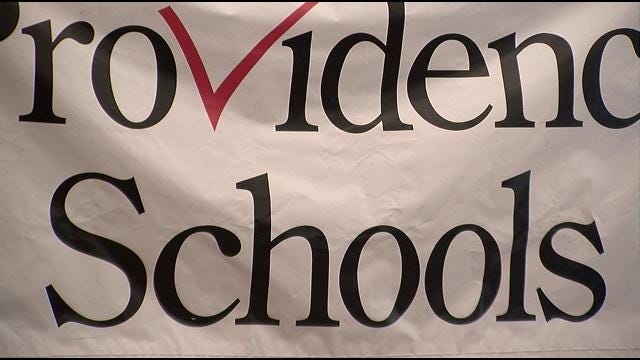 By Sean Cahill
A study to look into the central office of Providence Public Schools found that it cannot fulfill its obligations to students, families, and citizens without pursuing a transformational approach to how it operates.
The report, by Mass Insight Education, and commissioned by Mayor Jorge Elorza, states that the central office is unable to meet goals set by the school district and lacks key capacities in project management, talent management, data analysis and policy analysis.
"These findings are a call to action," said Mayor Elorza. "Providence Schools must have a central administration designed to support our schools and engage our community, so we can raise academic achievement across the district. Our children and families deserve a school department that just works, and frankly, our future depends on it."
The report states that obsolete systems hamper the effectiveness of staff and workflows are not designed with the users in mind.
The report also states that while the size of the central office is comparable with similar school districts, it has not been updated to account for new technologies, changing student and family needs, and new goals for the district. It also says the ratio of clerical staff to professional staff is higher then most comparable districts and it creates the perception that the central office is bloated.
"This study shows that the word 'bloated' doesn't belong in front of the word bureaucracy when it comes to PPSD. The report explains that we are surprisingly lean in central office, while at the same time being inappropriately staffed for our mission. I am pleased that this report charts the path forward to building on the good work my team and I have accomplished over the past four years," said Superintendent Dr. Susan Lusi.
The report offers recommendations on how to transform the central office. Some of the recommendations include redesigning business processes to increase efficiency, revising the central office's organizational structure to enhance productivity and customer service in support of students, families and schools, developing career ladders for placing qualified staff into clearly defined, redesigned roles; and reallocate positions not aligned with the new design, aligning the central office with district goals and making data driven decision-making ubiquitous and incorporate performance management metrics for continuous improvement.
Mayor Elorza and the School Board will review the report and come up with a strategy to address these issues in the coming months.
(C) WLNE/TV 2015