Report ranks RI men most immature in the country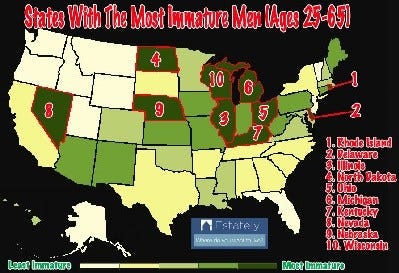 By Alana Cerrone
A recent Estately report ranks Rhode Island as the state with the most immature men.
The report ranked each state on various measurements, and apparently, a high percentage of Rhode Island men are unemployed, are too enthusiastic about fantasy football, beer pong and video games, and naturally, love the show 'Family Guy'.
Massachusetts is listed 24th out of the 50 states.
Utah ranks 50th, with the least immature men in the country.
Men surveyed were between the ages of 25 and 65.
To read more on how the information was collected and analyzed, check out the study at http://blog.estately.com/2014/10/which-u-s-states-have-the-most-immature-men/
© WLNE-TV 2014