Report Tom Brady Has Agreed to New Two-Year contract with Patriots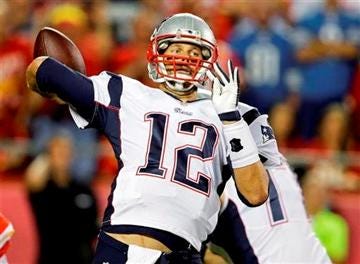 FOXBOROUGH, Mass. (AP) — Tom Brady reportedly has agreed to a two-year contract extension with the New England Patriots.
The deal will significantly lessen Brady's salary cap hit for 2016, which would have been about $15 million. He was due to make $9 million next season, plus a $6 million bonus, and $10 million in salary in 2017.
Brady, 38, has often redone his contract to help the Patriots' cap situation. The four-time Super Bowl champion has said he plans to play well into his 40s. The extension would allow him to do so in New England.
The agreement was first reported by ESPN.
Brady also renegotiated his contract in 2013 to help reduce cap hits. New England was $13.6 million under the 2016 cap of $155.27 million before extending Brady.
Brady, of course, is an all-time great who could wind up the NFL's leader in many career passing categories. He's been to six Super Bowls and 10 AFC title games, including the last five.
Some would say he is underpaid for the position given the championship pedigree and his two league MVP awards to go with three Super Bowl MVPs. In 2015, his cap hit of $14 million ranked 14th in the league, behind the likes of Colin Kaepernick and Jay Cutler. He might not rank even that high in 2016.