David Ortiz, Red Sox Agree To Contract Extension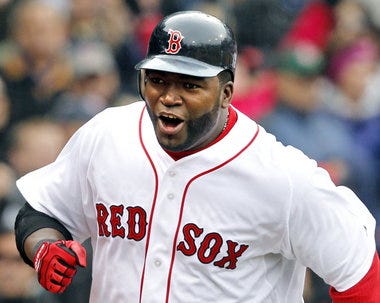 Boston Red Sox Press Release
RED SOX AND DAVID ORTIZ AGREE ON ONE-YEAR EXTENSION
Nine-time All-Star's extension also includes options for 2016 and 2017
FORT MYERS, FL—The Boston Red Sox and reigning World Series Most Valuable Player David Ortiz agreed today on a one-year extension through the 2015 season with a club/vesting option for 2016 and a club option for 2017.
Executive Vice President/General Manager Ben Cherington made the announcement.
Ortiz, 38, has led the team to three World Championships and has been an All-Star nine times in his 11 years with the Red Sox. Known as "Big Papi," Ortiz has hit 431 home runs in his big league career.
"With this agreement, we have near certainty that David Ortiz will finish his career in a Red Sox uniform, which is something we have all wanted and that we are all proud of," said Principal Owner John Henry. "It is difficult to describe David's contributions to our city both on the field and off the field, and we are so proud to have this ambassador of our game with us as he continues on this road to Cooperstown."
In the 2013 regular season, Ortiz hit .309 with 30 home runs and 103 RBI in 137 games. The left-handed batter, primarily a designated hitter, led the team and ranked among the top American Leaguers in batting average (6th), home runs (T-8th), RBI (7th), walks (T-7th, 76), on-base percentage (4th, .395), and extra-base hits (5th, 70).
His .564 slugging percentage last season ranked third among all major league qualifiers behind Detroit's Miguel Cabrera (.636) and Baltimore's Chris Davis (.634). In the last three seasons from 2011-13, his .972 OPS trails only Cabrera (1.036).
Last October, Ortiz started all 16 games en route to Boston's third World Series Championship in 10 years, hitting .353 while topping postseason leaders in home runs (5), total bases (36), walks (16), and times on base (34).
Named 2013 World Series MVP after going 11-for-16 (.688), he now owns the best-ever World Series batting average (.455), on-base percentage (.576), and slugging percentage (.795) among players with at least 50 plate appearances in the Fall Classic.
The Red Sox' career leader in postseason games (73), runs (51), hits (79), doubles (18), homers (17), extra-base hits (37), RBI (56), total bases (152), and walks (57), Ortiz also earned 2004 ALCS MVP honors after winning Games 4 and 5 with walk-off hits in Boston's historic comeback from a 3-0 deficit in the best-of-seven series versus New York.
An All-Star in each of the past four seasons, he leads all of Major League Baseball with nine All-Star selections in the past 10 years from 2004-13.
Last season was the seventh of Ortiz's career with at least 30 home runs and 100 RBI, all with the Red Sox, tying him with Ted Williams for the most in franchise history. No other left-handed hitter has as many 30-homer/100-RBI campaigns over the past 11 years.
With the Red Sox, Ortiz has hit 373 home runs, a total that trails only Ted Williams, Carl Yastrzemski, Jim Rice, and Dwight Evans; he is within 10 home of overtaking Evans and Rice for third place on that list. His 1,191 RBI trail that same group plus Hall of Famer Bobby Doerr.
Ortiz also ranks in the Red Sox Top 10 in extra-base hits (5th, 800), total bases (6th, 3,191), doubles (5th, 412), walks (5th, 901), runs scored (8th, 993), hits (9th, 1,630), and games played (10th, 1,514).
He ranks fourth in team history (min. 3,000 PA) with a .572 slugging percentage and a .962 OPS behind only Williams (.634, 1.116), Jimmie Foxx (.605, 1.034) and Manny Ramirez (.588, .999).
The current extension would take Ortiz through at least a 13th straight season with the Red Sox. Only five position players have been on the team for as many consecutive seasons: Yastrzemski (23), Evans (19), Rice (16), Williams (15), and Jason Varitek (15).
Since joining the Red Sox in 2003, Ortiz ranks second among major leaguers in slugging (.572), trailing only Albert Pujols (.601). The Red Sox signed him as a free agent on January 22, 2003, after Minnesota released him.
Ortiz and Alfonso Soriano are the only major leaguers to tally at least 20 homers in each of the last 12 seasons (starting 2002). He is the only Red Sox player ever to record at least 20 home runs in 11 consecutive campaigns (starting 2003). His 39 multi-homer games are the most in team history, while his 10 grand slams with Boston rank second after Williams (17).
Ortiz has a lifetime .287 batting average (2,023-for-7,057) with 520 doubles, 18 triples, 431 home runs, 1,429 RBI, 1,208 runs and 1,087 walks in 1,969 games over 17 major league seasons with the Twins (1997-2002) and Red Sox (2003-13). His 431 home runs rank tied for 45th on baseball's all-time list, sixth among active players, and tied for 16th in American League history. No other active player has as many regular season walk-off home runs as Ortiz's 11.
In 2013, Ortiz garnered his fourth career Thomas A. Yawkey Award as the Red Sox MVP in a vote of Boston BBWAA members (also 2004-06). He was the only player to rank among the top five in AL MVP voting in each season from 2003-07.
Among designated hitters, he is the all-time major league leader in hits (1,758), doubles (447), home runs (381), extra-base hits (845), total bases (3,382), and RBI (1,245). Ortiz has earned the Edgar Martinez Outstanding Designated Hitter Award a record seven times (2003-07, 2011, 2013). His six Silver Slugger Awards as DH (2004-07, 2011, 2013) are the most ever at the position.
He won the 2005 AL Hank Aaron Award, given to the top offensive performer in each league, after leading the Majors with 148 RBI. In 2006, he received the Josh Gibson Award, presented by the National Negro Leagues Museum to each league's home run champion, after breaking Foxx's Red Sox single-season home runs record with 54.
Known as much for his heart as his brawn, Ortiz won the 2011 Roberto Clemente Award, Major League Baseball's highest honor for those who best represent the game of baseball through positive contributions on and off the field. That same year, he won the Boston BBWAA's Tim Wakefield Award for his charitable spirit.
He created the David Ortiz Children's Fund to provide critical pediatric services in New England and in his native Dominican Republic. In the Dominican, he has hosted an annual eponymous golf classic the past four years to benefit his foundation. In Boston, he has provided his time and other resources to Mass General Hospital for Children, donating tickets to patients from the hospital over the last four years as part of his "Papi's Pals" program.