Residents gather outside Gamm Theatre protesting 'Bad Jews'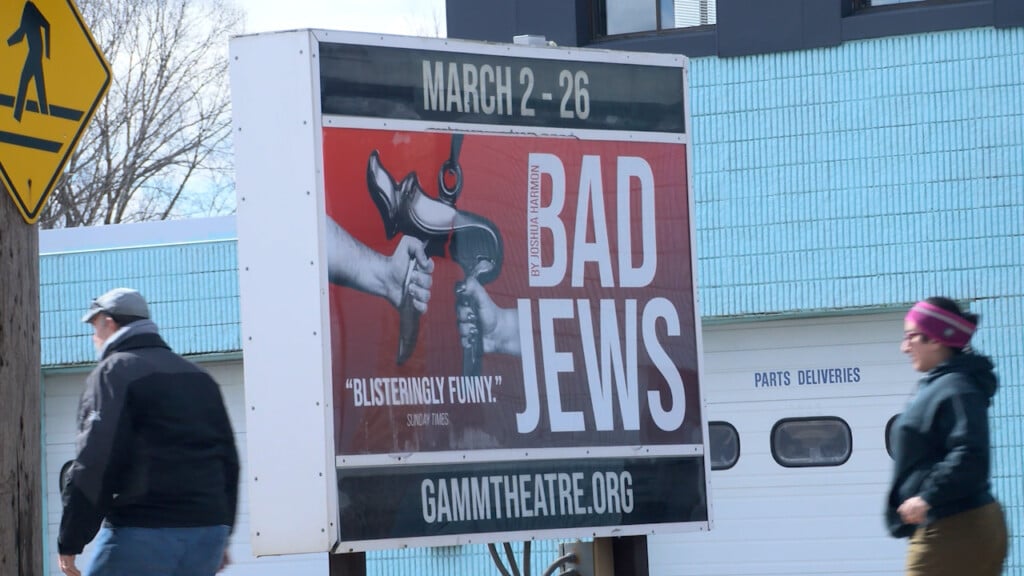 WARWICK R.I. (WLNE) — Protesters gathered outside the Gamm Theatre in Warwick Sunday to protest what they call an anti-Semitic jab.
Protesters were holding banners that read, "Anti-Zionism is Anti-Semitism," in protest of the running show titled "Bad Jews" by Joshua Harmon.
The play is described by the Gamm Theatre as a "savage comedy about family, faith, and the complications of identity."
Protesters said they did not get that impression from the way the theatre promoted it.
"We're not asking them not to put on the play," Ken Schneider, a protester said. "What we don't want is that sign, on this road that's probably going to be up there a total of six week and its normalizing Jew hatred, and it's got to end."
The artistic director at the Gamm Theatre, Tony Estrella, said he doesn't believe the sign or show are spreading negative connotations about the Jewish people.
When Schneider confronted Estrella outside the theatre, ABC 6 News crews heard his frustration firsthand.
"Red, black and white are Nazi colors," Schneider said.
Estrella quickly rebutted by confirming that the promotion is simply a display of their seasonal colors.
"So, the season is Nazi colors?" Schneider asked. "I'm not the first one who said that."
He continued saying it was the Rhode Island Council on the Arts that pointed the sign out to him.
"Well, that's unfortunate that they framed it that way. I think that is certainly not the intent of the sign," Estrella said. "The sign is there to advertise what we consider is a great play that we hope people will come and see and then judge for themselves."
The show "Bad Jews" runs from March 2 to the March 26.