Preparing for Hurricane Sandy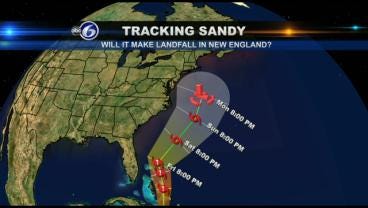 By: Liz Tufts
The threat of the storm hitting the east coast has greatly increased in the last 24–hours. The National Weather Service has been briefing emergency management offices in Massachusetts and Rhode Ssland.
Last year, you'll remember, it was Halloween snow storm. This year, it could be howling winds and torrential rain.
Lucille Dean's Halloween display at her Warwick home attracts trick or treaters from all over, but word Hurricane Sandy is moving towards New England possibly on Halloween is scaring her more ways than one. "I hope I don't lose electricity, I don't want to go through that again, " says Lucille Dean.
She's referring to last summer when tropical storm Irene knocked out power to thousands. She and her family were in the dark for five days. "We planned ahead so we had plenty of ice so we didn't lose our food, " says Dean.
And that's what emergency agencies up and down the east coast want people to do, start preparing now. They got those instructions Wednesday from the National Weather Service. "The National Weather Service told us the storm is in the Caribbean what we don't know is what track the storm is taking and what impact it will have here, " says Annemaire Beardsworth, Spokesperson for the Rhode Island Emergency Management Agency.
The potential impact could be severe. Worst case scenario, New England could get as much as 10 inches of rain, hurricane force winds, and coastal flooding. "We are providing regular updates to our local emergency managers, " says Beardsworth.
They're also advising you to stock up on candles and flash lights and clear storm drains of leaves. They also suggest moving outdoor displays inside.