Woman Survivor of North Attleborough Apartment Fire Identified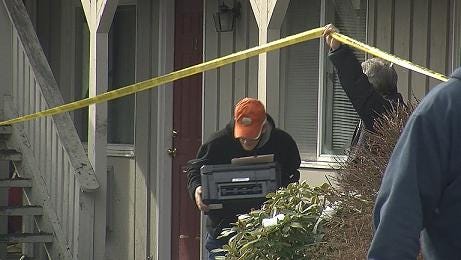 A North Attleborough man is dead and his female roommate is seriously injured. That roommate is doing better, recovering at Rhode Island Hospital. Fire Officials have identified her as 59-year-old Kathryn Kaine.
Residents returned to their homes Monday to gather whatever was left of their belongings. A neighbor is crediting a knock on the door with saving his life. Ken Pitts lives right below the apartment that caught fire. Just after midnight, he heard a knock on his door, looked up and saw ashes falling down on top of him. That's when he ran to safety,saving his life, some financial reports, a few pictures, and a suitcase full of clothes.
On Monday he took those belongings out of his ruined Chestnut Street apartment. Remaining pretty positive considering the place he calls home caught fire just after midnight.
Pitts said, "I was watching the football game and somebody, I'm right below where the fire started, and somebody banged on my door and said to get out. I said for what and they said there's a fire, and I looked up and ashes were coming down on my head, so I just got out quick."
His upstairs neighbors weren't so lucky. Fire crews say they pulled the woman out , Kathryn Kaine, who was seriously injured. The man living there was killed. His identity has not yet been released.
Chief Peter Lamb of the North Attleborough Fire Department said, "we will probably not find one thing wrong, there will probably be a series of events that led to this tragedy, I'm sure."
The tragedy has left eighteen people with nowhere to go, including Pitts, who says he hasn't begun to think about that yet.
"I really haven't lost anything I'm still here. That's the way my friends would look at it. I'll go to work this afternoon and see what happens tomorrow," said Pitts.
Fire officials say there were smoke alarms in the building, they're not sure if they went off though or if there was one in the room that caught fire first. Investigators are looking into the cause, but tell us they don't suspect any foul play.