Restaurant owner offers Deflategate judge free sandwiches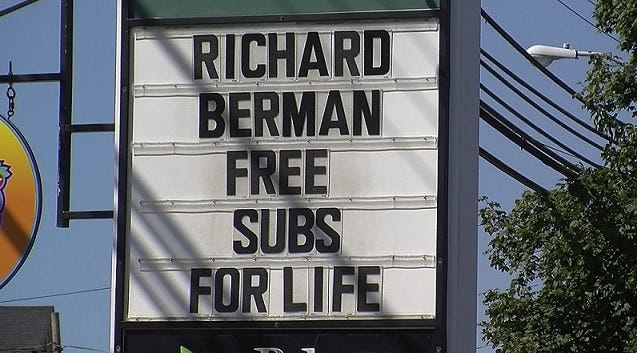 By Kirsten Glavin
kglavin@abc6.com
@kirstenglavin
PORTSMOUTH – A Portsmouth Subway sign went viral in just one day.
"I woke up this morning and it was everywhere. People were just posting it, re-blogging it and sharing it. It was really cool," said Morgan Baker, a Subway employee.
The sign reads, "Richard Berman, free subs for life." It comes after the judge cleared Patriots Quarterback, Tom Brady, of his four game suspension.
"When Judge Berman handed out his ruling in Brady's favor this past week, I thought it would be a good time to insert some local fun humor," said restaurant owner Derek Savas. He said he's a die–hard Pat's fan, so when the deflategate suspension was overturned, he asked an employee to change the sign. He got the idea from Dunkin Donuts, which offered the judge free coffee for life.
"I think it's a great thing to do. I think he should get more than coffee and free subs for life," said customer Kevin Estes.
But is the offer legitimate?
"Absolutely, absolutely. If Richard Berman came in here we would gladly give him a free sandwich. In fact if Brady and his family came by to go to Newport, I'd probably treat him as well," said Savas.
Chips and a drink?
"You know we'd probably have to talk about that."
It looks like the judge may have to just stick with sandwiches.
(C) WLNE-TV 2015