Retired State House Doorman Shares Kennedy Memories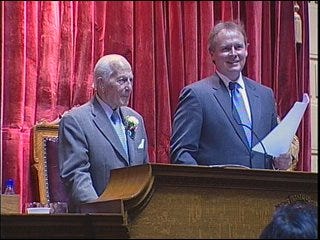 At the age of 103, RI State House doorman Frank DiPaolo, Jr, retired from his post on Wednesday, after 32 years of working on Smith Hill.
As part of the ceremonies honoring DiPaolo, he was made the first-ever Honorary Speaker of the House for the day.
Also at the ceremony was out-going RI Congressman Patrick Kennedy, who DiPaolo has served as a mentor to ever since Kennedy entered the Rhode Island political scene at age 19.
ABC6 News Reporter John Guice spoke with DiPaolo about his life at the State House, his time with the Kennedy family, and what he'll do in retirement.