"Revenge Porn" bill discussed at hearing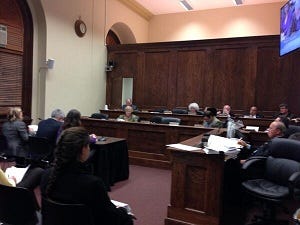 By: Samantha Lavien
Twitter: @samanthalavien
There is a push to make "revenge porn" illegal in Rhode Island.
The House Judiciary Committee debated a bill Tuesday that would prosecute anyone who sent out sexually explicit images of another person electronically, without that person's consent.
"There is no redeeming value for revenge porn other than to try and hurt someone else and as a legislature I feel it is our duty to protect the people in the state," said Rep. Donald Lally.
"It is just too broadly worded. What you are doing is you are putting criminal penalties on something that is currently handled through the civil courts and you are doing so in a way that is not taking into account the realities of how things are distributed online," said Hillary Davis with the ACLU.
Similar bills have already passed in New Jersey and California and 13 other states are considering it.
(C) WLNE-TV 2014