Rhode Island College Falls in First Round of the NCAA D-III Tournament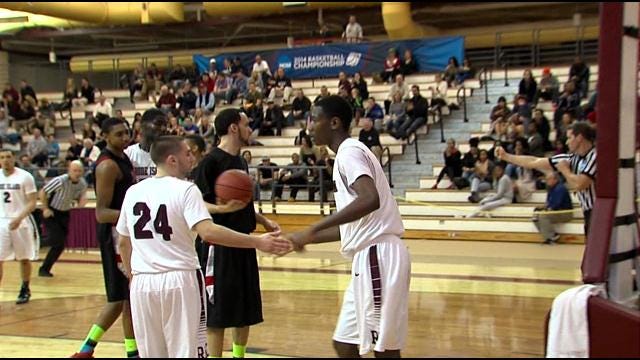 RIC news release…
ST. JOHN SCORES 31 AS YORK CLOSES OUT RIC'S SEASON, 79-54, IN NCAA TOURNAMENT ACTION
Cardinals Advance to Face Amherst in Second Round
Providence, R.I.-Junior guard Omar St. John (Jamaica, NY) scored 31 points on 10-of-17 shooting to lead York College past Rhode Island College, 79-54, in first round action of the 2014 NCAA Div. III Men's Basketball Tournament played at The Murray Center on Thursday evening.
The Cardinals (22-7) notched the program's first-ever NCAA Tournament victory and will advance to play at Amherst in the second round on Saturday, March 8 (7 p.m.). RIC (20-9), which is one of only five teams in the nation to have made the NCAA Tournament in each of the past eight years, sees its season come to an end in the loss.
St. John added six boards and five assists, while making 9-of-13 from the free throw line in the victory. Senior guard Michael Woods (Brooklyn, NY) contributed 20 points, four boards, five assists and three steals. Junior guard Justin Garvin (Hollis, NY) scored 11 points, while junior center Jaron Williams (Bronx, NY) hauled down a game-high 15 rebounds.
RIC junior forward Chris Burton (New Rochelle, NY) led the Anchormen with 14 points, nine rebounds, two blocks and a pair of steals. Classmate center Victor Smith (Providence, RI) posted a double-double with 11 points and 11 boards. Senior forward Jacob Page (Braintree, MA) chipped in with eight points and 11 rebounds. Senior guard Tom DeCiantis (North Kingstown, RI) and Michael Palumbo (Providence, RI) closed out their careers with six and seven points, respectively.
"I am really proud of our seniors," RIC Head Coach Bob Walsh said afterwards. "They just refused to be beaten and let this streak come to an end. Tonight wasn't our best night, but give York the credit for that. Tom, Jake, Mike and Nyheem Sanders (Pawtucket, RI) have made our program better and made me a better coach."
The CUNYAC champion Cardinals came out on fire in the first half, building a 16-2 lead over the first 9:30 of the ballgame. Woods ripped off nine points during the run, capping the outburst with a layup at 12:34.
A Smith layup and a trey by Palumbo cut RIC's deficit to 11, 18-7, at 10:27, only to see York go on a 12-2 run to make it 30-9 with 7:01 remaining in the first stanza. St. John keyed the run with an eight-point effort. A Burton layup sent the Anchormen into halftime trailing by 21, 39-18.
Back-to-back layups by Woods and St. John, then two foul shots by St. John, helped York increase its lead to a game-high 27, 45-18, just 1:14 into the second half.
The Anchormen slowly began to chip away at their deficit, going on a 13-1, run to trim the disadvantage to 15 points, 46-31, at the 15:21 mark. Burton had five points, which included a dunk, while DeCiantis and junior guard Eric Alleyne (Watertown, MA) knocked down threes.
That would prove to be as close as RIC would get as the visitors quickly built their lead back to 20+ points, capped by a dunk by Williams at 8:43 to make the score, 60-37.
The visitors tied their game-high with a 27-point lead, 68-41, with just over five minutes left and cruised the rest of the way for the win.
RIC shot 31 percent (22-for-70) from the field, 20 percent (6-for-30) from downtown and 44 percent (4-for-9) from the free throw line.
The Cardinals shot 47 percent (28-for-60) from the floor, 36 percent (4-for-11) from three-point land and 63 percent (19-for-30) from the charity stripe.
RIC held a decisive advantage in rebounding, 51-37, but turned the ball over 22 times as compared to just six for the visitors.