Rhode Island College Men's Basketball Advances To Eighth Straight Conference Title Game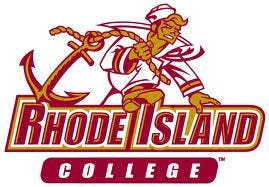 Rhode Island College Press Release
Anchormen Return To LEC Title Game For Eighth Straight Season
Willimantic, Conn. – Senior guard Tom DeCiantis (North Kingstown, RI) racked up 18 points, 10 rebounds, and five assists to lead second-seeded Rhode Island College to an 82-69 victory over third-seeded UMass Dartmouth on Friday night in the semifinals of the 2014 Little East Conference Men's Basketball Tournament, played at Geissler Gymnasium on the campus of Eastern Connecticut State University.
Rhode Island College (19-8) advances to its eighth-straight Little East Conference Tournament Championship game with Friday's win over UMass Dartmouth (16-11) and will aim to defend last year's crown. For the third time in the last four years, the Anchormen will square off against top-seeded Eastern Connecticut on Saturday, March 1 (5 p.m.) in the title game.
Rhode Island College posted an outstanding shooting night en route to the double-digit victory. The Anchormen shot 49 percent (25-for-51) from the field, 44 percent (7-for-16) from the downtown, and 83 percent (25-for-30) from the free throw line. RIC also out-rebounded the Corsairs, 41-24, and corralled 12 offensive rebounds on the evening.
Junior forward Chris Burton (New Rochelle, NY) posted 18 points, eight rebounds, four blocks, two steals, and two assists for RIC, while senior guard Michael Palumbo (Providence, RI) finished with 13 points. Junior center Victor Smith (Providence, RI) totaled 11 points and seven rebounds, while freshman forward Terrance Tribble (White Plains, NY) tallied nine points and three boards off the bench. Junior guard Eric Alleyne (Watertown, MA) chipped in with eight points and five assists in the win.
"We came out with a great effort defensively tonight and controlled the game from the opening tip," said Head Coach Bob Walsh. "Veterans like Tom, Chris, and Mike stepped up and made plays. Tomorrow we will play in the Championship Game for the eighth straight year and that is incredible. We are 40 minutes away from our goal."
Sophomore forward Abi Akanni (Fitchburg, MA) netted a team-high 17 points for UMD to go along with five rebounds and two steals, while freshman guard Ryan Walsh (North Dighton, MA) contributed 14 points and three rebounds. Freshman guard Tucker Bouchard (Kingston, MA) finished with 13 points, two rebounds, two assists, and two steals, while sophomore center Wale Abraham (Lynn, MA) blocked five shots and chipped in with four points, five rebounds, and three assists.
After UMD junior guard Jake Laga (Northampton, MA) opened the action with a three-pointer at the 19:18 mark of the first half, Palumbo fired back with a three of his own to tie the game with 19:05 on the clock. The Anchormen followed with 12-2 scoring run, keyed by five points from Burton, to take a 15-5 lead over the Corsairs with 15:46 remaining in the frame.
Although UMass Dartmouth stayed within single digits throughout much of the stanza, RIC closed out the half on a 16-7 scoring surge over the final six minutes, en route to the, 42-26, halftime lead. The Anchormen quickly increased their lead to as many as 20 in the second half, while the Corsairs failed to cut the margin to single digits for the remainder of the game in the 13-point loss.
The Corsairs shot 36 percent (20-for-55) from the field, 39 percent (9-for-23) from beyond the arc, and 87 percent (20-for-23) from the charity stripe.
UMD forced RIC into 22 turnovers, while coughing it up 17 times on the other end. The Corsairs also blocked six shots and swiped a grand total of 11 steals.