Rhode Island Could Get Up To 50 Million From Race To The Top Grant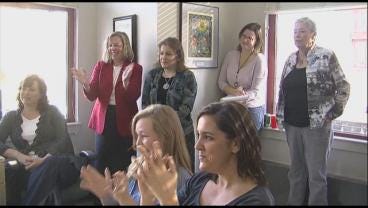 It's a big boost for early childhood learning programs in Rhode Island and Massachusetts. Both states learned today that they will split 500-million dollars with seven other states to improve pre-k education.
Executive Director of Rhode Island KIDS COUNT, Elizabeth Burke Bryant, says this Race To The Top grant is vital for pre-k education.
Burke Bryant says, "learning begins at birth it does for my children, it does for your children, It will really improve high quality learning environments in classrooms and places for young children to be."
Burke Bryant was heavily involved with the state's application process. She along with the rest of the team watched the White House celebration streamed live online as Rhode Island was announced a winner.
Rhode Island could receive up to 50-million dollars towards enhancing early childhood learning.
A part of Rhode Island's plan for the Race To The Top funds is that every licensed early learning center must participate in a quality rating program called Bright Stars like they do at Brown/Fox Point in Providence. Brown/Fox Point is now a five star center, but it didn't start out that way.
The center's executive director, Chris Amirault, says the funding will help other pre-k centers enhance their programs that it has his.
Amirault remembers being critiqued by Bright Stars, "it was a little scary at first, but you know to do good things and to really do the best for children we all have to pull up our pants a little bit."
Before the grant, only 10 percent of pre-k centers in Rhode Island participated in the quality rating program, now they'll all have to.
This is the second Race To The Top grant Rhode Island has received from the US Department of Education. Last year, the state was awarded 75 million for grades k-12. The exact amount awarded to the states will be announced next week.