Rhode Island DEM to limit sizes of caught striped bass after May 27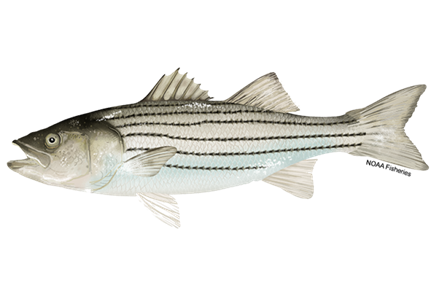 PROVIDENCE, R.I. (WLNE) — The Rhode Island Department of Environmental Management announced that it will implement a size limit for striped bass caught recreationally.
Officials said the size limit for a striped bass will be 31 inches and will go into effect next Saturday and last until October 28. Officials said this could be subject to change.
"The Atlantic States Marine Fisheries Commission took emergency action earlier this month imposing the size limit because Atlantic striped bass are overfished and because of 'the unprecedented magnitude' of the fishery's 2022 recreational harvest, which was 'nearly double that of 2021,'" DEM spokesperson Mike Healey said.
The decision of the date came after the DEM worked with surrounding states to implement more rules for sustainability.
"The goal of the emergency action by the ASMFC Striped Bass Management Board is to help preserve the 2015 year-class," DEM Marine Fisheries Chief Dr. Conor McManus said.
"With what appears to be poor year-classes in recent years, it is imperative to help preserve the spawning stock as best as possible to rebuild the striped bass population," he concluded.
The goal of the size limit is to allow the current bass population as many chances to preproduce as possible in order to replenish the population.