Rhode Island Department of Health releases 'Santa' DNA results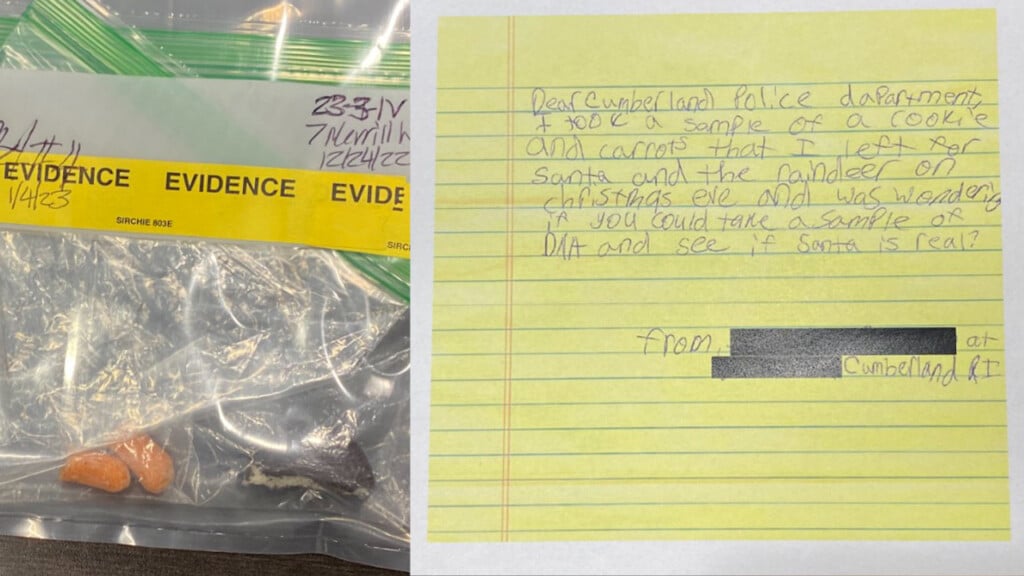 PROVIDENCE, R.I. (WLNE) — Three days after a Cumberland girl requested that a Christmas cookie and carrots be tested for Santa's DNA, the results are in!
"Unfortunately, there were no complete matches anyone in the Combined DNA Index System (CODIS) that is used to help identify matches with other results across the country to help solve cold cases," wrote the Department of Health.
While there was no match, the Department of Health said there was a partial match to a 1947 case centered around 34th Street in New York City.
"Ultimately, we would need additional DNA samples from other known Santa encounters to make a more definitive match," added the Department of Health.
The good news, said health officials, is that they didn't find evidence of any common food borne illnesses in the cookies.
"So, whoever ate them is safe," said the Department of Health.
As for the carrots, the Department of Health said they found DNA matching closely with Rangifer tarandus — most commonly known as reindeer.
"While our laboratory was able to apply the most current and technologically advanced methods to solving this case, we aren't able to definitively confirm or refute the presence of Santa at your home," the Department of Health wrote to 10-year-old Scarlett Doumato.
Friday, Doumato sparked an investigation into a half-bitten Oreo cookie and two carrots from Christmas Eve night.
With suspicions for years about Santa, she explained she's "been waiting a long time, so I just kind of did it. I can actually know now!"
Whether Santa is real or not, the Department of Health encouraged the 10-year-old to "remain curious," and said they look forward to seeing her application to the Department of Health's State Health Laboratories some day, so she can help them solve this case and others.