UPDATE: RI Family Lost in MA State Park Speaks to ABC6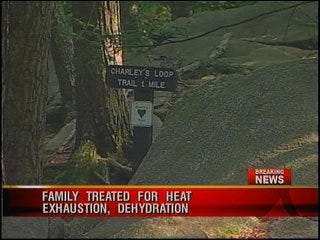 UPDATE:
Tuesday ABC6 News brought you the story of a Rhode Island family, lost in the forest at Purgatory Chasm in Sutton, MA. The family called the Massachusetts State Police, and were then aided by their sirens to safety.
Wednesday, ABC6 Reporter Abbey Niezgoda spoke with the children about the ordeal…
ORIGINAL STORY:
A Rhode Island family was rescued by Massachusetts State Police Tuesday, after they got lost in the Purgatory Chasm State Park forest, located in Sutton, Mass.
At 2:27 P.M. Mass State Police Framingham Barracks, received a call stating that a grandmother and her 4 grandchildren were lost in the Purgatory Chasm State Park Forest. The family told police that they believed they were near the highway because they could hear passing cars.
State police dispatched several cars to the area Route 146 where a fence borders the forest, and turned on their sirens. They then told the family to walk towards the sound of the sirens which they did. While the police waited for a tool to cut through the fence, a 7-year-old boy collapsed. An officer climbed the fence and provided first aid. The grandmother also collapsed at one point as well, and first aid was administered to her.
All members of the family were taken to UMASS Memorial Hospital in Worcester, Mass, where they were treated for dehydration and cuts.
The Grandmother is from Woonsocket, RI. Police are not releasing the names of the victims, but do tell ABC6 News that they are a 56-year-old Grandmother, a 14-year-old boy, a 12-year-old girl, an 11-year-old girl, and a 7-year-old boy.