Rhode Island FC is new name for Pawtucket's United Soccer League team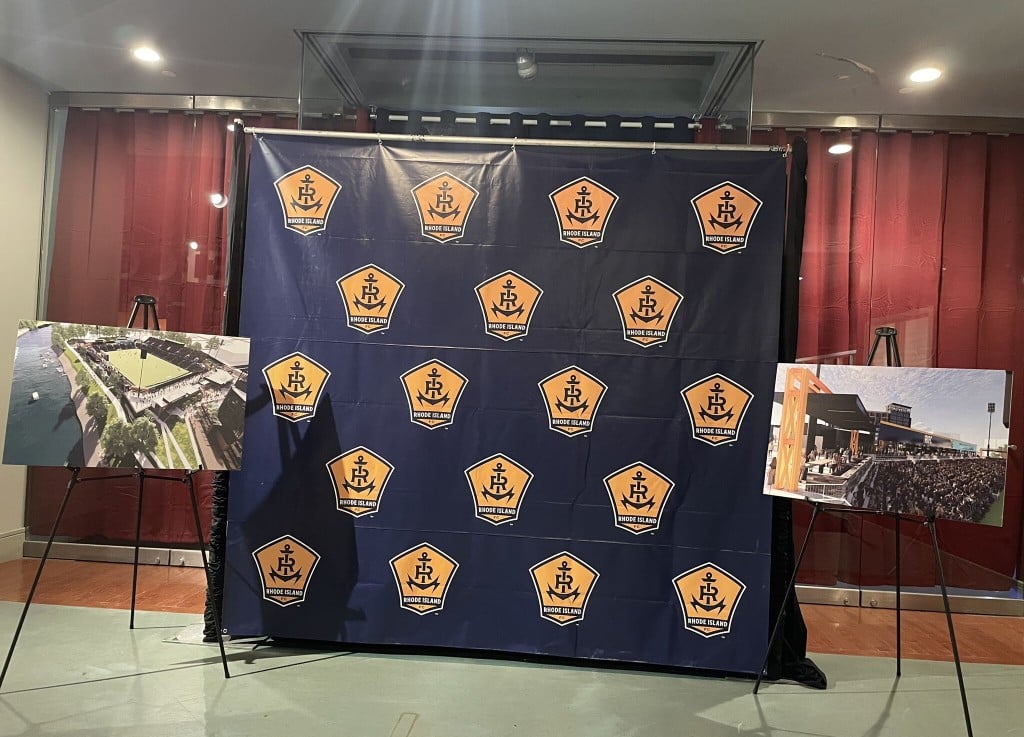 PAWTUCKET, R.I. (WLNE) — A pro-soccer organization bringing a stadium to Pawtucket unveiled the city's United Soccer League club name.
The soccer club will now be called the Rhode Island FC and will be making its USL debut in 2024.
"Rhode Island is one of the country's best markets for soccer and this state deserves a team it can call its own. Rhode Island FC is the only pro team in the state with a direct connection to the 39 cities and towns that make up the Ocean State," Brett Johnson, co-founder of Rhode Island FC said.
"Nothing symbolizes us better than the anchor that is iconic and synonymous with the state," Johnson added.
The $124 million stadium will seat about 10,000 people and is part of a $400 million project.
Fellow co-founder Michael Parkhurst, a Cranston native and former member of the U.S. Men's National Team and six-time MLS All-Star, was also at the announcement, saying, "In soccer, players and supporters wear the club crest over their hearts. Our team is a club for every Rhode Islander and we cannot wait to open our doors to welcome long-time soccer fans and folks new to the beautiful game into our home."
The city of Pawtucket broke ground on the Tidewater Stadium in August and is expected to complete construction in 2024, in time for the USL season.
"With an identity and a strong base of support from both established and new soccer fans, we know that Rhode Island FC will compete at the highest levels of USL immediately," said Johnson.
The rest of the Tidewater Landing project, which will include about 500 riverfront apartment units, restaurants, and retail stores is expected to be completed in 2025.
"As importantly, this club will provide an anchor for civic pride in our stadium in Pawtucket, that will ripple across the entire state. Our stadium will be a community gathering place and our players will be neighbors and ambassadors to Rhode Islanders. We can't wait for Opening Night," added Johnson.
According to the USL, the Tidewater Landing project is one of five current projects across the United States under construction to join the USL Championship and USL League One. There are another 11 stadiums either approved or currently in development to join the league in the future.
The project to bring a pro soccer club to Pawtucket has faced some setbacks along the way.
Earlier this year, the project nearly reached a standstill before Gov. Dan McKee issued a tiebreaking vote to allow for $27 million in previously approved state funding to be diverted to the stadium phase of the project.
The amended deal also included taxpayer protections of no state payments until there is permanent occupancy of the stadium.
Fortuitous Partners began working on the project in 2019, from a request for proposals from the city to revamp McCoy Stadium and Pawtucket's downtown development plans.
Season tickets for Rhode Island FC's inaugural season go on sale Tuesday at 10 a.m. Johnson and Parkhurst also added the club is expected to announce the hire of their first president later this week.
Visible construction to the Tidewater Stadium is also expected to be underway very soon, Johnson added.