Rhode Island General Assembly Opens 2014 Session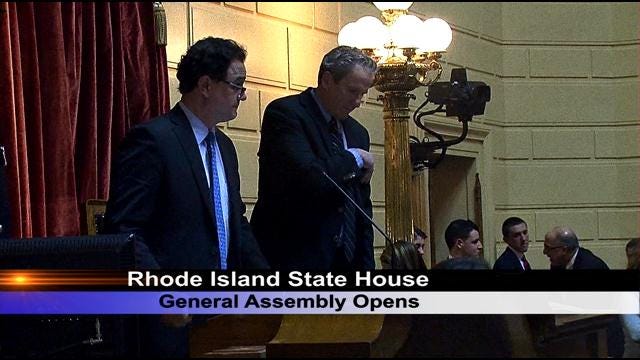 by ABC6 Chief Political Reporter Mark Curtis
The Rhode Island General Assembly 2014 session is now underway.
Lawmakers will be tackling many diverse issues.
They include: cutting the sales tax; paying for Obamacare; and, possibly legalizing marijuana.
But the main focus is fixing the state's bad economy.
"Putting people to work will solve many of our problems. And we're beginning to see some light at the end of the tunnel. – little as it may be – but we have to continue in our efforts and be more aggressive," said State Sen. Dennis Algiere, (R) Minority Leader.
But in trying to do all that, the state may face a 100 million dollar budget deficit.
"We do have to think about lowering taxes actually. Especially the corporate taxes and the sales taxes. That's certainly going to be on the table with me. But we have to make cuts in government," said State Rep. John Lombardi, (D) Providence.
ABC6 Chief Political Reporter Mark Curtis said, "There will be other pressures this year. 2014 is an election year and most of these lawmakers will be trying to retain their seats."
The controversial tolls placed on the Sakonnet River bridge last year could be increased, but there will be a fight to repeal them:
"Sakonnet River Bridge we definitely have to revisit that. The thing's just not working right," said Senator Algiere.
And the ghost of "38 Studios" will haunt the State House again.
As they did last year, lawmakers must decide whether to repay bondholders from the failed video game firm another 12 million dollars.
"I voted against that Mark and I will be advocating not to pay it. It's a moral obligation bond. I don't think we'll have to pay it," said Representative Lombardi.
Lawmakers might also have re–do the pension reforms they placed on state employees two years ago.