Rhode Island liquor tax ends Sunday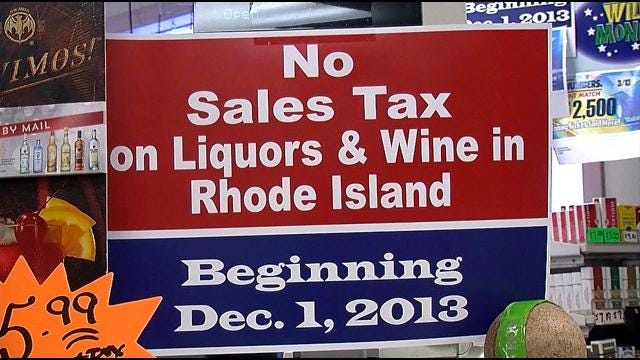 by ABC6 Chief Political Reporter Mark Curtis
Malik's Liquor Store in Warren was doing a booming pre–Thanksgiving business.
But come Sunday, Rhode Island eliminates the sales tax on hard liquor and wine, to make it more competitive to Massachusetts, where many shoppers border hop.
"The problem is that they're losing business to Massachusetts. We're the only industry at a 7 percent disadvantage. Seven percent in Rhode Island sales tax, zero in Massachusetts," said State Rep. Jan Malik, (D-Warren), who owns the liquor store.
There is one exception. Rhode Island will still tax beer; Massachusetts won't.
ABC6 Chief Political Reporter Mark Curtis said, "This is just an experiment, to see how it will affect Rhode Island revenue and businesses. But there are those that want to see the sales tax exemption expanded to many other products."
Rhode Island has a 7 percent sales tax for most products, but Massachusetts is at 6 and-a-quarter percent sales tax.
Some want other Rhode Island sales taxes to go lower, or go away, to make the Ocean State more competitive.
"Well I think Rhode Island needs to do something dramatic, to attract businesses and to attract shoppers. And to attract families back to our state. So I think broad reform of the sales tax, whether dropping it to 3 percent or eliminating is absolutely as major step we can take," said Mike Stenhouse from the Rhode Island Center for Freedom and Prosperity.
In the meantime, liquor store owners are hoping their tax cut will pay off.
"Shop Rhode Island," said Jan Malik.
The Rhode Island General Assembly may consider other sales tax cuts next year.