Rhode Island National Guard's Leapfest to return to skies of Exeter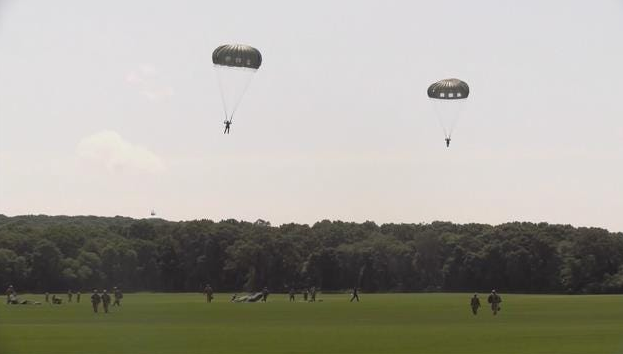 EXETER, R.I. (WLNE) — The Rhode Island National Guard's Leapfest will return to the skies of Exeter this weekend.
"We are proud to bring this worldwide tradition back to Exeter, Rhode Island for the second consecutive year," said Col. John MacDonald, 56th Troop Command Commander and host of Leapfest 2023.
"The team has done a tremendous amount of work expanding and improving the competition for the competitors as well as the spectators," MacDonald said.
The family-friendly show will begin at 9 a.m. Saturday.
The drop zone this year will be at Glen Rock at 300 Hog House Hill Rd. in Exeter.
Leapfest organizers call it the "largest and longest running international static line parachute training event and competition in the world."
Paratroopers from Armenia, Canada, the Czech Republic, the United Kingdom, Greece, Germany, Egypt, Italy, the Netherlands, and Portugal, along with 27 teams from the United States military, are set to participate in the annual training event and competition.
The teams will jump out of a CH-47 Chinook helicopter at about 1,500 feet and try to land as close as possible to one of four X's marked on the drop zone.
A paratrooper's time starts as soon as they land and they'll run to touch the nearest X.
The team with the shortest time combined will win the competition. There will also be individual and team achievements.