Rhode Island officials speak out about Paris attacks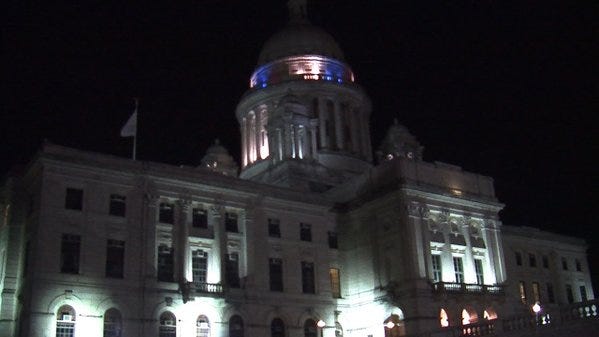 By Bianca Buono
bbuono@abc6.com
@BBuonoABC6
The Rhode Island State House is illuminated in the colors of the French flag.
"This is not just an attack on the people of France. It's an attack on the international community in many ways," said Congressman Jim Langevin.
Rhode Island officials are standing as one with the people of France after the deadly attacks across Paris.
"I find these attacks despicable. They're cowardice," said Langevin.
"My heart goes out to the families who've lost loved ones and we stand with them," expressed Governor Gina Raimondo.
"This is a barbaric act of terrorism. France is America's oldest ally and stood with us at every important time in our history," said Congressman David Cicilline
Friday's attacks are the deadliest in France since World War II. Hundreds were killed and injured and there are many unanswered questions.
"It's going to be like peeling back layers of an onion to determine exactly who is responsible, perhaps what was missed along the way if there were signals or signs of the plotting and planning that went into this attack," said Langevin.
Congressman Jim Langevin wonders if the recent attacks are a result of "going dark."
"The issue of going dark is one that certainly I'm concerned about where new technologies have emerged that allow for encryption to take place in a robust way," Langevin said.
State officials are interpreting this act of terrorism as an attack on the free world everywhere. They are doing whatever it takes to stop it from happening again.
"Intelligence officials are going to be working overtime to make sure that we're reviewing all of our procedures, understanding are we as safe as we can possibly be," said Langiven
"We have to be vigilant and continue to do what we're doing in the United States and in partnership with our allies around the world," Cicilline said.
Although far away, officials in Rhode Island are confident that the international community will recover from the atrocity.
"We cannot allow the terrorists to undermine our way of life," said Cicilline.
"We're going to live our lives in a free country and we're going to run our business in a free country and we're just going to keep moving," Raimondosaid.
While there is no specific threat in Rhode Island, officials are remaining vigilant by ramping up security and reminding everyone that if you see something, say something.
© WLNE-TV 2015