Rhode Island officials warn of blue-green algae in pond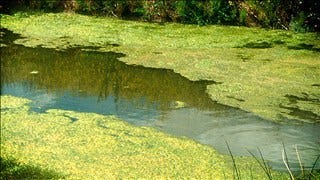 By: The Associated Press
Email: news@abc6.com
Twitter: @ABC6
NEWPORT, R.I. (AP) – Rhode Island officials are advising people to stay away from a Newport pond due to the presence of a toxic blue-green algae bloom.
The state Departments of Health and Environmental Management say the algae known as cyanobacteria were found in Almy Pond. All recreation_ including swimming, fishing and boating _at the pond should be avoided.
The algae can produce toxins that are harmful to people and animals.
The state's advisory says people shouldn't let pets drink the water or swim in it.
Officials say it's possible that blue-green algae blooms could be affecting other bodies of water in Rhode Island.
© WLNE-TV / ABC6 2017