Cranston School Buses Could Become Moving Billboards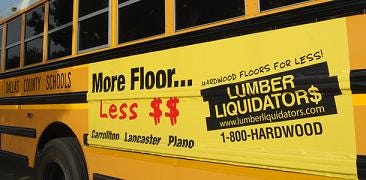 Cranston school buses could become moving billboards. City leaders are pushing to put up ads on school buses, saying they could generate hundreds of thousands of dollars for the cash strapped city. Quite a few states are already doing it, including Massachusetts. Some other states using the school bus ads include Texas, Arizona, Utah, and Tennessee.
Selling ads to make money in school districts whose budgets are shrinking, seems like a great idea, but some say the great idea could harm our children.
Imagine a banner like the ones seen on the RIPTA buses stretched across a school bus, in an effort to bring money back into school districts. It's an idea the city of Cranston hopes to make a reality.
Councilman Paul Archetto says, "I felt that there should be a way to generate money other than the homeowner and the taxpayer."
Archetto was the push behind the ads. He says he tried getting the banners on school buses when he was on the school committee a couple years ago, but it never passed. But last night city council members voted 8 to 1 in favor of a resolution that will move forward with the advertisements.
"I felt let the corporations kick in a bit and if we can sell advertisements on the sides of school buses, that's great," says Archetto.
Michael Beauchamp is the president of Alpha Media, a company that sells school bus ads displayed on buses in districts across Texas. Beauchamp says a district with 150 buses could make as much as 500-thousand dollars over a four year period. Cranston has 86 school buses and has the potential of making 300 thousand in four years.
Councilman Steven Stycos was the one vote against the school bus ads, saying he's afraid the banners would be geared towards junk food and promote childhood obesity.
Stycos said, "advertising is a huge motivator of kids to buy crummy food. Advertising is appealing but I think we can't sacrifice kids health to a few bucks for advertising on the side of the bus."
The city of Cranston has looked into privatizing their school bus system, but has held off to be sure the savings are worth losing their fleet. The ads could be the answer to not only keeping control of their buses, but maybe even bringing back programs that have been cut.
Superintendent Peter Nero says as long as the banners are regulated and don't affect the students, he's all for the idea.
Nero said, "any revenue that would come in would be welcome."
The next step for this idea would be for a state representative to introduce legislation that would allow for the advertisements. If that were to pass, school committees and superintendents would have to put together a standard of regulations before any school bus in Rhode Island could become a moving billboard.