Rhode Island sees 18 additional COVID-19 deaths, largest spike in deaths so far
PROVIDENCE, RI (WLNE) – 18 more Rhode Island residents have died from COVID-19 making this the largest spike the state has seen so far throughout the pandemic.
This brings Rhode Island's COVID-19 death toll to 105.
All 18 newly reported deaths were residents of congregate care centers like nursing homes, according to the Rhode Island Department of Health (RIDOH).
RIDOH Director Dr. Nicole Alexander-Scott said not all 18 people died since Wednesday. Some deaths occurred over the last few days due to a lag in reporting. Scott says RIDOH is working to minimize that lag time.
RIDOH announced an additional 309 positive cases on Thursday bringing the state's total to 3,838.
245 people are in hospital, 61 of them are in the ICU, and 43 of them are on ventilators.
RIDOH reports that they've tested 28,064 people as of Wednesday.
Gov. Gina Raimondo started Thursday's briefing saying that the numbers will continue to rise as expected.
"I wish we were out of the woods, but we are not yet," Raimondo said.
She continued to add that her stay-at-home order must continue to be obeyed which is currently in place until May 8.
The Governor said she doesn't know yet if she'll extend her order beyond May 8. She said as it gets closer she will reevaluate.
Raimondo added that she is working closely with other states to get the economy back open.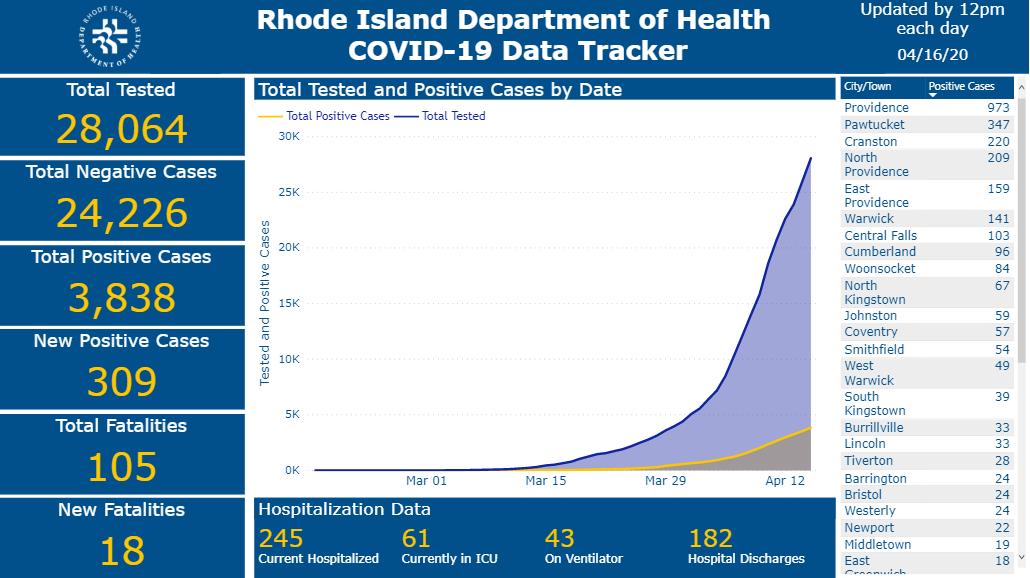 Credit: RIDOH
Raimondo said her teams have been gathering data for the last six weeks. One of her workstreams looks solely at numbers.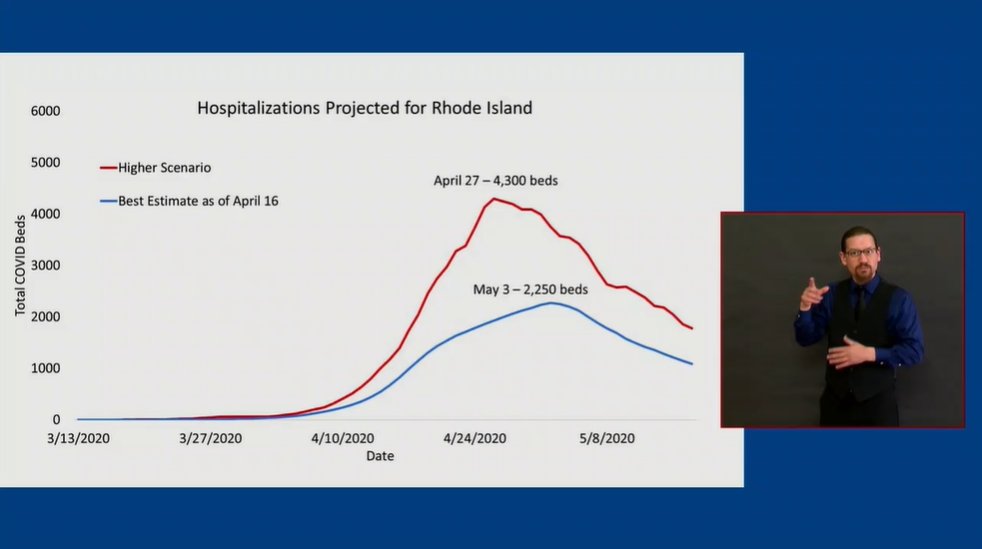 "The model is imprecise and I've been reluctant to share one," Raimondo said. "But I feel comfortable putting it out to the public to show where we are and where we're going."
The red line represents what could happen if social distancing guidelines are not followed. The peak would be around April 27 and is a much higher number of cases. Over 4,000 hospital beds would be needed, according to the data above.
Raimondo noted that based off the blue line in the model the peak could be around May 3 and 2,250 beds will be needed. With the current health care system in place Raimondo said the state can handle that number.
"If you all keep doing the hard work of staying at home, two weeks from now we will be in a better place than the blue line," Raimondo said. "Social distancing is working, social distancing is saving lives."
Raimondo acknowledged Thursday that she had said earlier this week that she would be making an announcement on the school year, but she is going to be putting it off until next week. "I want to get this right," Raimondo said. "I'm not ready to throw in the towel."