Rhode Island State House's tent city and how we got here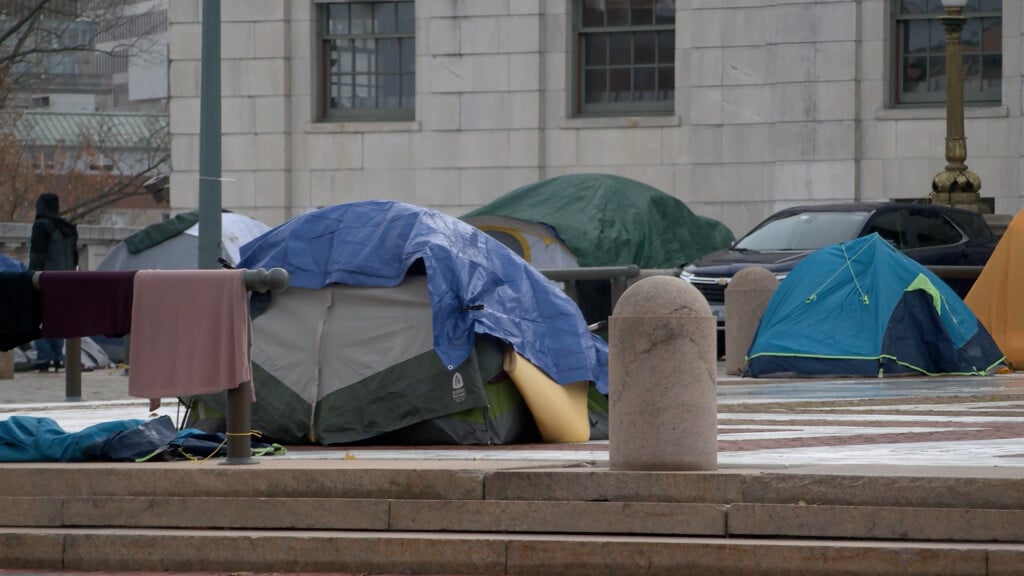 PROVIDENCE R.I. (WLNE) — With a tent city on the steps of the Rhode Island State House now facing eviction, the homeless and housing crisis has embroiled Gov. Dan McKee over much of the past year. So, how did we get here?
According to Crossroads Rhode Island, a nonprofit organization providing housing services to homeless, each year in the state, nearly 4,000 people experience homelessness. The number of people living on the streets has even increased by 52% since the pandemic.
On Nov. 4, 2021, McKee announced that Rhode Island would be dedicating up to $5 million to expand shelter capacities statewide.
That same month, the state and homeless advocates announced they would use Warwick's NYLO hotel as a transitional shelter to house the homeless throughout the winter.
Throughout 2022, the governor made several announcements about funding new shelter beds. Even with more funding announced throughout the year, advocates said there was no dramatic uptick in the number of beds across Rhode Island and so, they continued their calls to address the crisis.
An April 2022 protest by the Rhode Island Homeless Advocacy Project drew dozens to the State House. Soon after, homeless and advocates began pitching tents and staying overnight to bring attention to the lack of beds as winter shelters closed.
In June, McKee signed the state budget, which allocated $20 million to assist individuals and families experiencing homelessness or housing instability.
Meanwhile in October, dispute was brewing in Cranston. A proposal to build Pallet houses for the homeless on state land there prompted pushback by city officials and residents.
Also in October, during a press conference at Crossroads RI, McKee promised that additional beds for the homeless would be available by Thanksgiving.
Two months later, advocates for the homeless protested during the tree lighting ceremony at the State House, after unfulfilled measures left an estimated 1,000 individuals in need of beds.
More recently, it was announced the Cranston Street Armory would open its doors for the first time in decades, to the homeless during the winter, prompting the eviction notice served to those staying outside the statehouse.